Businesses Fearing a Recession Should Use AI to Optimize Their Supply Chain
Thanks to high inflation, rising interest rates, and massive job cuts, fear of recession has become modus operandi for most businesses. Even with year-over-year inflation somewhat cooling and with the shuttering of Silicon Valley Bank, the Federal Reserve shows no signs of continuing its path of demand destruction with interest rate hikes. A bearish economic climate drives layoffs, and as they enter into the thousands, especially in the tech industry, more and more companies are grappling with significant gaps in their workflow. Some in the enterprise automation space see this as a critical moment for companies to insulate themselves against a rickety economy, calling for businesses to use AI to optimize their supply chain.
Today, AI is playing in role in every layer of business, and is providing enterprise automation solutions to help cover some of the pressure points for businesses. Companies facing labor and skill shortage are using AI to automate tasks, for inventory management and consumer behavior predictions, and even to improve delivery times, inventory and warehouse management. All these points of automation, especially ones that create logistics efficiencies for a company's supply chain, are critical and have compounding effects across a company's finances and operations.
Bob Rogers, co-author of Demystifying AI for the Enterprise: A Playbook for Business Value and Digital Transformation and CEO of Oii.ai, which helps businesses find the right supply chain set-up through its AI-enabled software, explains why companies should deploy AI to optimize their supply chain.
Bob's Thoughts:
"My company Oii.ai is using AI in two key areas. First, we monitor data from supply chains and we use AI to identify what that data means and how it connects to our supply chain modeling software. The other place we use AI is to predict what kinds of disruptions supply chains might need to be prepared for, so that we can build the most robust supply chain possible.
In an environment where inflation is putting pressure on companies to maintain margins without raising prices too much, a key opportunity is to reduce the cost of your supply chain by reducing inefficiencies and inventory. Software such as Oii.ai can optimize the supply chain to reduce costs and support margins without raising prices."
Article written by Aarushi Maheshwari.
Latest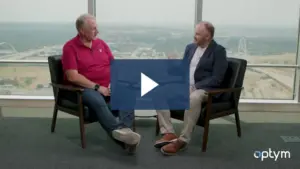 September 26, 2023
Making LTL shipping frictionless is more than possible; it's happening today. How can one challenge the status quo and embrace technological transformation in an industry that has historically resisted change? In this captivating episode of Semi-Related, Chris Torrence sets the stage for a riveting conversation with Todd Florence, the Chief Information Officer of Estes […]
Read More