Conquering Everest, Space, and Now Drone Controls
After taking on space flight and Mt. Everest Scott Parazynski was looking for a new challenge. He decided to enter the drone industry through his company Fluidity Technologies.
"I've always been an inventor, interested in pressing the boundaries of what's possible," he said. "The things that people tell me 'that's impossible,' those are the things that get me most excited."
Having been surrounded by state of the art tech in space, the former astronaut became inspired and intent on bringing it to people on the ground. He saw an opening in the drone world to do so.
All of the available drone controllers on the market feature the double joystick design, a feature of the 1930s, and remained untouched despite decades of innovation.
"How can we advance mobility, both in our virtual as well as our physical worlds?" Parazynski explained.
Fluidity's new FT Aviator drone controller is designed to improve drone control for pilots while also simplifying the process by stepping away from dual thumbsticks in favor of one main control that is reminiscent of a fighter jet yoke.
Parazynski hopes drone pilots will go away from the two-hand controller so many have grown accustomed to over the years. Particularly he sees application in first responder situations.
Next for Fluidity is the addition of radio communications to the product, and as history has show, Parazynski is up for the challenge.
Latest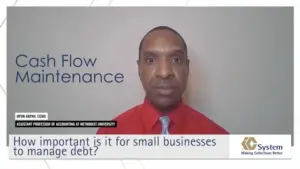 December 8, 2023
Effective debt management through a robust accounts receivable system is essential for small business cash flow and growth, necessitating automated payment schedules and strategic policy adjustments. Collaborating with a collection agency as a strategic partner can enhance revenue recovery while preserving positive customer relationships. How critical is effective debt management for the financial health […]
Read More