Creative Problem Solving in the Supply Chain Post-COVID
"It has merged into more of a headcount and workforce problem. So, how do we keep people coming and the lines rolling?," he said. "It has been a challenge."
On our podcast, Ground Truth by Phantom Auto, our goal is to tell stories about the power of reimagined warehouse logistics, mobility and automation that speak for themselves. Our supply chain is riddled with pain points, from volatility in global supply and demand of commodities to worker shortages and ever-shifting consumer demands.
To figure out the answers, host Daniel Litwin talked with Evan Rago, Strategic Sales Manager and Solutions Development at Phantom Auto, and Trever Ehrlich, Creative Solutions Manager at Kenco Logistics, a third-party logistics (3PL) provider that saw the value of Phantom Auto's remote operations and has transformed their supply chain footprint.
The trio spoke about how companies on the front lines of our supply chain are dealing with these pressures on their operations and how they are reimagining their workflows to meet today's needs using automation and remote operation.
They also broke down how their needs reflect larger trends in the industry and got into the nitty-gritty of what it takes to launch remote operations solutions.
Kenco's place in the broader supply chain includes distribution, transportation, material handling, real estate and ecommerce. With a hand in so many pots, they've certainly seen various pressures on their operations, especially over the past year.
This has undoubtedly forced them to become more creative in their solutions. One of the most challenging areas has been the labor market. As ecommerce demand has significantly increased, so has the need for new hires in these roles. Companies are also turning to automation.
"It has merged into more of a headcount and workforce problem. So, how do we keep people coming and the lines rolling?," Ehrlich said. "It has been a challenge."
Latest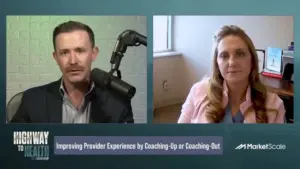 November 28, 2023
Improving healthcare is a multifaceted challenge, with the provider experience playing a pivotal role alongside patient care. In a recent episode of the "Highway to Health" podcast, host David Kemp delved into this critical issue with Stephanie Prechowski, MBA, MSN, RN, AGCNS-BC, CNOR, Chief Operating Officer at Surgeons Choice Medical Center. In this episode, […]
Read More