Do Gen-Z Employees Care About ESG, CEI and DEI?
Today, discussions about Environmental Social Governance (ESG), Corporate Equality Index (CEI), and Diversity, Equity, Inclusion (DEI) are becoming more prevalent in the corporate world. Yet, many question their validity and impact, as institutions grapple with integrating these initiatives into their overall philosophy. This discussion is crucial, considering that globally, sustainable investment assets stood at $35.3 trillion at the start of 2020, representing 36 percent of all professionally managed assets.
But how do these concepts resonate with the younger generation? Are ESG, CEI, and DEI seen as valid tools for positive change, or are they viewed with skepticism?
In the latest episode of Untamed Ethos, host Joshua Wilson, founder of United Ethos Wealth Partners, and guest Russell Rhoads, Clinical Associate Professor of Financial Management for the Kelley School of Business at Indiana University, explore this question, as well as other topics like the exodus from ETF bonds. The episode takes an exciting turn, featuring perspectives from an intern about ESG, CEI, and DEI, providing unique insights into how these concepts are perceived by those poised to step into the corporate world.
The conversation includes:
An intriguing exploration of the intern's first impressions of ESG, DEI, and CEI.
The impact and necessity of these initiatives within the educational system, specifically business schools.
An examination of the implications of institutionalizing DEI at the cost of practical learning tools.
Russell Rhoads, a seasoned expert in financial management, has dedicated his career to exploring the nuances of financial markets. His work at the prestigious Kelley School of Business at Indiana University has positioned him as an authoritative voice on these topics, providing valuable insight into the evolving landscape of corporate governance and inclusion.
Latest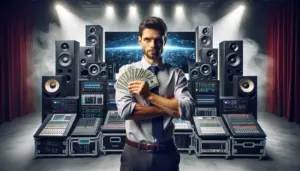 December 8, 2023
Mastering AV sales strategies in a global professional audio-visual (Pro AV) market, poised to reach $79.2 billion by 2028, requires much attention to detail. The surge in demand from corporate, government, and institutional sectors, driven by the need for enhanced productivity and efficient working environments, gives AV sales pros a lot of opportunity. In […]
Read More