Empowering Communication with Mobile Delivery for any Remote Areas
Key Points: 
Mobile message delivery facilitates real-time communication on multiple devices, transcending single-device limitations.
Schools can leverage tablets or mobile devices for streamlined event notifications and engagement.
The convenience and efficiency of mobile message delivery enhances communication effectiveness.
Summary:
The topic of global message delivery, particularly concerning customer communication across various devices, is gaining attention. Conventional solutions often limit communication to a single device, whereas mobile message delivery enables notifications to be transmitted and received on multiple mobile devices. This versatility is invaluable in situations where alternative systems are inaccessible, such as playgrounds or remote areas.
Manny Kitagawa highlights the potential of mobile devices for message delivery in educational settings, where faculty can utilize tablets or smartphones to request assistance or share event notifications. This approach ensures comprehensive coverage on campuses, fostering participation from those with designated roles. The flexibility and adaptability of mobile devices surpass conventional communication methods, rendering them indispensable in a variety of scenarios.
The ability to push notifications to mobile devices offers convenience and efficiency in communication, particularly when other options aren't available. It promotes real-time communication and event participation, making it an attractive solution for businesses and organizations. By adopting mobile message delivery, entities can guarantee effective communication throughout their properties and engage with customers or employees in a convenient and timely manner.
Latest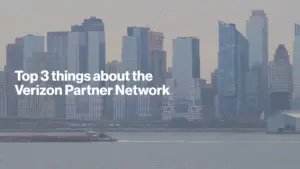 December 1, 2023
For a continuation episode of The Verizon Partner Network's special segment with team leaders, Mark Tina, VP of Indirect Channel Distribution and Channel Chief at Verizon Business Group, joined again to outline the three top aspects that define the Verizon Partner Network and its approach to collaborative success. The video centers on Tina's explanation of […]
Read More