EU Antitrust Probes Target Apple, Twice: Business Casual
Powered by RedCircle
On today's Business Casual segment, brought to you by MarketScale, co-hosts Tyler Kern and Daniel Litwin take on allegations against Apple that have resulted in two antitrust investigations being leveled at the company by the European Commission.
In recent months, the EU has launched anti-trust investigations into Google, Amazon and Facebook. And on Tuesday, June 16, the EU announced that it's now launching two antitrust investigations into Apple's App Store rules and the Apply Pay platform as well, seeking to assess whether Apple's rules for app developers on the distribution of apps via the App Store breach EU competition rules.
While companies can place their apps on the App Store at no cost, Apple charges companies 30% from in-app purchases and 30% on subscriptions for the first year, then 15% thereafter. Reaching a new single day record of $386 million on January 1st  and generating $1 billion for the company each month—with $50 to $100 million of those revenues going directly to Apple—Spotify, which competes directly with Apple music, and Kobo, an e-reader company that competes with Apple Books, have filed complaints against the tech giant over the last year, stating that these practices are unfair, stifling and distorting competition by promoting Apple's own books and music, while collecting and using customer data siphoned from Spotify and Kobo databases.
According to Executive Vice-President Margrethe Vestager, in charge of EU's competition policy, "We need to ensure that Apple's rules do not distort competition in markets where Apple is competing with other app developers, for example with its music streaming service Apple Music or with Apple Books. I have therefore decided to take a close look at Apple's App Store rules and their compliance with EU competition rules."
In a statement from Apple, the company asserts that, "Our goal is simple: for our customers to have access to the best app or service of their choice, in a safe and secure environment. We welcome the opportunity to show the European Commission all we've done to make that goal a reality."
While Apple maintains that it's done nothing wrong, Litwin and Kern delve deeper into the situation, pondering whether the EU's maximum penalty of 10% of global revenues for breaking competition rules—just a drop in the bucket for this multinational tech giant, even though services represent 18% of Apple's annual sales—will actually curb the company's long-term business practices, and whether or not other solutions are necessary to help protect smaller app providers.
Keeping you informed of the newest trends and the hottest topics in B2B, tune into the Business Casual podcast each Wednesday and Friday. And for the latest thought leadership, news and event coverage across B2B, be sure to subscribe to our MarketScale Radio channel on either Spotify or Apple Podcasts where you can find all of our Business Casual, Ratified and other contributor shows; or go to Marketscale.com/Industries to view all of our live video and classic article content.
Latest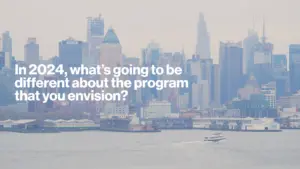 December 1, 2023
In the dynamic telecommunications landscape, Verizon's Partner Network continues to evolve, adapting to new trends and opportunities. For another segment featuring Mark Tina, VP of Indirect Channel Distribution and Channel Chief at Verizon Business Group, he explores exactly what types of significant changes and advancements the Verizon Partner Network will see in 2024. In this […]
Read More