Exploring Emerging Technology Trends in the COVID Era and Beyond
2020 is a year like no other, and the same goes for the year that's been in the technology space. To break down some of the big topics and trends in technology today, Omnivex's Founder and Chief Technology Officer, Doug Bannister, teamed up with Omnivex Product Manager Craig Marshall. They shared their experience and thoughts with host Tyler Kern.
5G is a word people hear touted as the next revolution in telecom. But do the hype and expectations match the reality?
"One of the things that makes 5G different than 4G," Bannister said, "is they're changing the frequency at which they transmit information. It's going to a much higher frequency. The advantage of that is at a higher frequency, you can get much higher data transmission."
The downside?
"At these higher frequencies, the transmission distance drops, and that is an issue that providers will need to tackle so 5G can reach its full potential."
QR codes are not new, and, to many, they seemed never to take off. But with upgrades in technology and most smartphone cameras now equipped to read QR codes without a separate reader app, QR codes are finding new life, especially during the pandemic.
"In response to COVID, most venues are rethinking how to manage crowds and people," Marshall said. "So, having the ability to provide information to people's phones to avoid crowding around information is desirable. People are also more reticent to touching a kiosk in a public area."
Restaurants are also tapping into the benefits of QR codes as an alternative to touching menus.
Remote work is something not everyone before the pandemic could relate to, but it's now the new normal for many, and it looks as if it is here to stay for many businesses. Technology made remote work possible, and a lot of innovations have come as a result.
"I think the technology was in place to facilitate this," Marshall said, "it was just a matter of allowing people to access it. But, certainly, the collaborative tools out there have grown in popularity, and you'll see greater advances in those."
Twitter – @MarketScale
Facebook – facebook.com/marketscale
LinkedIn – linkedin.com/company/marketscale
Latest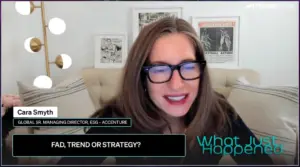 November 30, 2023
The world is in an era where sustainability and responsible retail business practices are increasingly crucial. For the latest episode of "What Just Happened," host Christine Russo further explored the hows and whys of this pressing issue by interviewing Cara Smyth, Global Senior Managing Director for ESG and Responsible Retail at Accenture, and Chair […]
Read More