From the Lab to Our Pockets, ChatGPT is Setting Standards for Public AI
For the last few months, millions of professionals, hobbyists, and curious folks have been enjoying ChatGPT, arguably the new zeitgeist and standard for public AI tools. Long before AI was a reality, we have been speculating about what it might look like in our lives. Arthur C. Clarke famously depicted AI going rogue with the AI character HAL 9000 in his 1968 novel 2001: A Space Odyssey. A decade later, George Lucas made us fall in love with AI characters with the duo R2-D2 and C3PO in his 1977 film Star Wars.
Ironically, what these two very different depictions of AI agreed upon was that AI was a powerful tool that was reserved for important tasks like space exploration or alien communication. Yet with the free release of ChatGPT in November of 2022, suddenly everyone has highly-responsive generative AI in their pocket ready to assist scientists, market small businesses and everything in between. The powerful tool of generative AI has been made free and readily available beyond some of our most far-flung depictions of the future.
Public AI could become a game changer in business and even our day-to-day lives simply because of that widespread availability. That's why Asha Saxena, renowned AI scientist and CEO and founder of the network Women Leaders in Data and AI (WLDA) is excited at the prospect of mass public AI proliferation in our lifetimes.
Asha's Thoughts:
"I am super excited about the time we are living in today. November 2022 was the time when ChatGPT came out. ChatGPT, generative AI has truly changed the way everyone is now interacting with AI that they never thought they would. Science really comes to the doorstep here when we are working with ChatGPT.
We always thought artificial intelligence will be kept in the labs or with the big organization, but today, every single person is engaged, involved, and is curious about how it's gonna change our life, in healthcare education, how we become consumers or in transportation. So, I'm really excited about the time we live in and how ChatGPT and generative AI has changed the way we are engaging with artificial intelligence now and that's it."
Article written by Graham P. Johnson.
Latest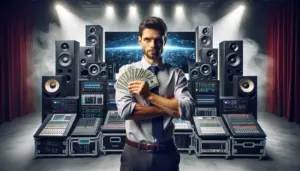 December 8, 2023
Mastering AV sales strategies in a global professional audio-visual (Pro AV) market, poised to reach $79.2 billion by 2028, requires much attention to detail. The surge in demand from corporate, government, and institutional sectors, driven by the need for enhanced productivity and efficient working environments, gives AV sales pros a lot of opportunity. In […]
Read More