Getting Down to the Basics of Power Over Ethernet (PoE)
Power over Ethernet, or PoE, is a powerful solution for running power to multiple devices through an Ethernet port instead of an electrical outlet. To familiarize end users with the basics to maximize their PoE, "What About Power Over Ethernet" brought in the big guns.
Jim Toepper, Director of Products and Marketing for EtherWan, knows PoE inside and out, with more than 25 years of networking and connectivity experience under his belt. Toepper shared his knowledge and insights on the benefits of PoE and how to make the most of this technology.
While the concept of PoE is an easy one to grasp, Toepper said there are things to consider before connecting. There may be an assumption when purchasing a PoE device that one can plug into any PoE delivery device to make it work.
"The reality is there are different specs and standards the PoE follows that have evolved over the years," Toepper said. "Some of the PoE products manufacturers have taken liberties, making them more or less compatible with each of those different standards. And some may not be compatible at all with the standards or may use a proprietary method of connecting."
With today's technologically advanced PoE systems, what are some of the most exciting applications or uses for PoE?
"One of the things I'm most excited about is the application of PoE lighting," Toepper said. "It's still really new. But if you think about how you have to install lights today, you would need to run an electrical cable to each light fixture. Suppose you wanted to control that individual light fixture. In that case, you'd need to have an additional controller module connected to that fixture or connected to the switch that controls that light fixture. And then you'd have to have a secondary control software machine and a centrally located device to control all these things.
"When you talk about PoE lighting, now things get reimagined. You have a light fixture in the ceiling, and you can connect it to the light fixture next to it. With an Ethernet cable? That just seems crazy, but it's possible."
Follow us on social media for the latest updates in B2B!
Twitter – @MarketScale
Facebook – facebook.com/marketscale
LinkedIn – linkedin.com/company/marketscale
Latest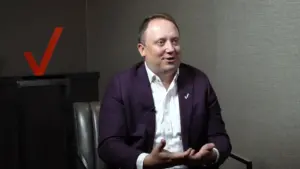 December 1, 2023
For a special episode of The Verizon Partner Network the focus was on the considerable role of partnerships in the Verizon Partner Program and the leaders shared their perspectives on the initiative. Their conversation brought about a lot of thought-providing context on the evolving telecommunications landscape. In today's era, collaboration and integration are key to […]
Read More