Closing the Homework Gap Through Extended, Secure Wifi Access
The difficulty students experience completing homework without sufficient access to the internet is not a new issue, but one that many people understand at a whole new level due to the current pandemic. Jason Claybrook, Head of Sales and Marketing at Aura Wireless, Jeff Wolfe, Solutions Architect, at SonicWall, Loren Wiege, Director, Competitive Global Programs, at SonicWall,  and Holly Davis, Founder & CEO of Komplément believe the problem can be solved.
Areas where the community is economically underserved or remote, rural populations where there isn't sufficient fiber laid to cover the needs are most susceptible to the lack of internet access for students after school. "The challenge these communities have had for many years has been they've had to do after school programs, or other forums, to provide the students the access they need to the internet to get their homework done," Davis said.
And while the recent Cares Act may provide funding to help close the homework gap, how is that accomplished when there is still the issue of a lack of internet access in many areas, especially in rural communities? Aura Wireless and SonicWall have teamed up to provide solutions. Claybrook explained his company's antenna product attaches to wifi access points and provides up to 10 acres of coverage, which significantly reduces the number of AP locations. SonicWall provides secure outdoor AP's which, when combined with Aura's Wireless solution, now give schools more wireless access to their network for students in the community.
Follow us on social media for the latest updates in B2B!
Twitter – @MarketScale
Facebook – facebook.com/marketscale
LinkedIn – linkedin.com/company/marketscale
Latest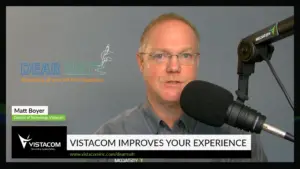 December 11, 2023
In a time when the AV industry supply chain faces unprecedented challenges, understanding its current status and future trajectory is crucial. In this week's segment of "Dear Matt," presented by Vistacom, host Matt Boyer, the Director of Technology at Vistacom, brings his over 30 years of experience in the audiovisual industry to the status […]
Read More