How AI Search Engines for Businesses are Transforming the Space
The launch of ChatGPT, a large language model trained by OpenAI, has caused quite a stir in the tech world, changing how AI search engines for businesses are transforming.  Since its release, other big tech companies such as Microsoft and Google have been inspired to develop their own generative AI and launch AI-supported search engines.
Recently, Microsoft announced the release of its new AI-powered search engine, called Microsoft Bing. The search engine uses AI technology to provide more accurate and relevant results to users. This is a big step forward for Microsoft, as they have been lagging behind Google in the search engine market for some time now.
Google has been making significant strides in the AI field for years. Its search engine uses AI to understand user queries and provide more relevant results. Google's AI technology is also used to power its advertising platform, which helps businesses connect with potential customers more accurately and efficiently.
Experts and consultants are opening the dialogue on the use of AI in search engines and its many benefits for businesses. In addition to helping companies better understand what customers are searching for and tailor their marketing efforts accordingly, AI appears to offer ways to create more efficient and effective marketing campaigns, which in turn can result in increased sales and revenue.
Abbas Moledina, co-founder of YouMakr.ai, shares his opinion on the ways AI search engines for business are revolutionizing the way companies target customers, helping them to better understand and reach the right people for their products and services.
Abbas' Thoughts
"So AI search engines are revolutionizing the way businesses target customers, helping them better understand and reach the right people for their products and services. These engines are becoming increasingly popular among businesses so they can accurately and more efficiently connect with potential customers and better understand the kind of customer trends and preferences.
These engines can help. Track customer habits and overall these engines are, going to become ubiquitous as part of business performance. I think in the future."
Latest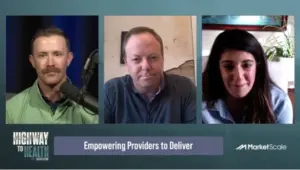 December 6, 2023
The healthcare industry is undergoing a significant transformation, driven by the need to improve patient experiences, access, and outcomes. Amidst this shift, contract lifecycle management (CLM) is emerging as a critical tool for healthcare providers. With the increasing pressure on cost management and compliance, healthcare organizations are seeking solutions that streamline operations and enhance […]
Read More