How the Drone Industry Will Continue to Innovate Without Waiting for the FAA
When speaking with drone industry professionals, Federal Aviation Administration (FAA) regulation is often brought up with the same frequency as the actual technology behind the devices. Policies are important in shaping any growing industry but at some point businesses must grow within the existing regulatory framework.
"An industry's credibility is not built on how many policies are passed or how many different capabilities we have if we don't, before all of that, begin to establish that we have a viable product," DroneUp CEO Tom Walker said.
In an address to attendees at InterDrone 2019, Walker explained how the drone industry can continue to succeed and innovate today without waiting for looming changes from the FAA. He elaborated on that sentiment in a conversation with Colin Guinn, Founder of Guinn Partners, afterwards.
"I'm not saying don't focus on the policies of the future, I think those are important, but let's quit using those as an excuse for our industry because I don't think they're holding us back," Walker said.
Walker told those in attendance at his speech that the leaders of the industry should think of themselves not as drone professionals trying to build a business, but businesspeople trying to build a drone industry.
Changes will come from the FAA that will change what is possible with drones. There is no getting around that fact. However, in the meantime there are still significant milestones drone professionals can achieve.
Latest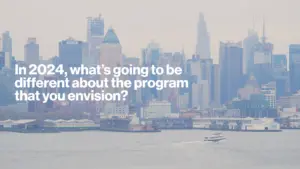 December 1, 2023
In the dynamic telecommunications landscape, Verizon's Partner Network continues to evolve, adapting to new trends and opportunities. For another segment featuring Mark Tina, VP of Indirect Channel Distribution and Channel Chief at Verizon Business Group, he explores exactly what types of significant changes and advancements the Verizon Partner Network will see in 2024. In this […]
Read More