ISC West: Honeywell Says Comprehensive and Customizable Security Solutions are the New Security Environment Standard
At ISC West 2023, Honeywell proudly proclaimed that you don't just buy a security system – instead, you create your own security environment powered by Honeywell. 
Honeywell is offering unique security environments where end users find a great deal of benefits with flexible solutions that are cloud compliant. If customers need security solutions but lack the staff or infrastructure to manage the cloud, Honeywell Enterprise Class Security is completely hosted in the closure. Customers can choose what they need. In addition, Honeywell is also delivering premise solutions. 
Commercial security solutions by Honeywell are designed to protect businesses from internal and external threats and enhance their overall security posture. Honeywell offers end-to-end solutions from the camera to the hard drive and back to the reader. They can provide standard services which are fully expandable as needed to halt bad actors. 
Security solutions include video surveillance, access control, intrusion detection, fire detection and alarm systems. These solutions are designed to be highly scalable and can be customized to meet the specific security needs of businesses across various industries, including retail, healthcare, finance, and more.
One of Honeywell's flagship security solutions for businesses is its MAXPRO® VMS (Video Management System). MAXPRO VMS is a powerful video surveillance solution that allows businesses to monitor their premises in real-time, review footage for incident investigation, and control their security cameras from a centralized location. Also, MAXPRO VMS offers advanced analytics features such as people counting, license plate recognition, and facial recognition to enhance security and improve business operations.
Honeywell also boasts a range of access control solutions that allow businesses to manage access to their premises and sensitive areas. Access control solutions include card readers, biometric scanners, and mobile access solutions that enable businesses to control access to their premises from anywhere, at any time. The access control solutions integrate seamlessly with its video surveillance solutions, providing businesses with a comprehensive security solution that enhances their overall security posture.
Intrusion detection is another key component of Honeywell's commercial security solutions. Honeywell offers a range of intrusion detection systems that detect unauthorized access to businesses' premises and alert security personnel in real time. Honeywell's intrusion detection solutions can be integrated with its video surveillance and access control solutions, providing businesses with a comprehensive security solution that enhances their overall security posture.
All of Honeywell's fire detection and alarm systems are designed to help businesses detect and respond to fires quickly, minimizing damage and potential losses. Honeywell's fire detection and alarm systems include advanced smoke detection sensors, intelligent fire alarm control panels, and emergency communication systems that alert occupants and emergency responders in the event of a fire.
Honeywell's commercial security environment solutions offer businesses and governments a comprehensive and customizable security solution that can be tailored to meet their specific security needs. 
Greg Tomasko, Applications Engineering Leader for Honeywell Security, discusses how Honeywell products exist in sites with strict compliance issues. He also touches on the importance of computing at the edge. 
Latest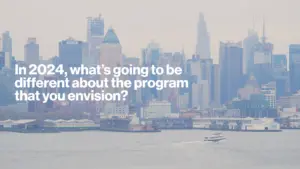 December 1, 2023
In the dynamic telecommunications landscape, Verizon's Partner Network continues to evolve, adapting to new trends and opportunities. For another segment featuring Mark Tina, VP of Indirect Channel Distribution and Channel Chief at Verizon Business Group, he explores exactly what types of significant changes and advancements the Verizon Partner Network will see in 2024. In this […]
Read More