It's an Exciting Moment for Telecommunication Infrastructure Growth

It's an exciting moment for the growth of telecommunication infrastructure, especially in places that aren't New York City or Los Angeles.
While the "big three" companies will continue to fight each other in urban markets, rolling out things like 5G and battling for the best densification, there's enormous space for the hundreds of smaller companies who are looking to serve small towns and rural environments, which became even more attractive in 2020.
"The new race is the rural race. That's where the Tier 2s, the Tier 3s, the munis, the co-ops and the electric utilities are really playing a role," said Tom Counts, CEO of 3-GIS. "The electric utilities have a number of factors pushing them. They've seen declining revenue for the last decade. They've been looking at, 'How do I do revenue replacement?' But at the same time, boom, you've got (Rural Digital Opportunity Fund) funding that's come out and COVID hitting everyone, and people have run to the woods. They're sheltering in place, working from home and the race to be able to successfully allow them to do that is on, and it is on big time.
"With SSP, who has a fantastic reputation and position all across the utility space, we are finally going to be well-prepared to answer that call."
SSP had long been hoping to work with a company like 3-GIS, though CEO Skye Perry joked that Counts at first ignored his calls.
"As we've grown we were primarily a service provider," Perry said. "What we saw when we looked at 3-GIS is they come from the opposite direction as far as product-first. They're a completely product-oriented business. They certainly do services, too, with their products, but they've really focused on not getting into the customization business, which is a tremendous move for a product provider.
"As we bring these (organizations) together with their complementary backgrounds and offering, as I go through and sort of articulate the synergistic opportunities between us, that probably gets me just as excited as anything. We do different things, but when we bring it together, we're going to do all of it a whole lot better."
Follow us on social media for the latest updates in B2B!
Twitter – @MarketScale
Facebook – facebook.com/marketscale
LinkedIn – linkedin.com/company/marketscale
Latest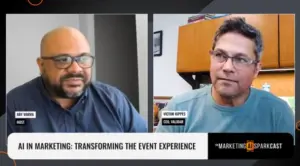 November 28, 2023
AI has been gradually changing the landscape of event technology at a very rapid pace. In an industry where staying ahead of technological trends is crucial, AI's impact on marketing and event management has become increasingly significant. As witnessed in the rise of account-based marketing and enhanced personalization, AI is effectively reshaping how events […]
Read More