Locus CEO Nishith Rastogi Wants His AI Tool To Help Meet Customer Demands
Consumer behavior continues to change in the wake of the pandemic. One trend found by 6 River Systems is that consumers demand "omnichannel" retail experiences that are consistent across channels. It can be very difficult for retailers to bridge the gap between brick-and-motor and online delivery of their products.
How can retailers create seamless experiences when the logistics are so difficult?
This is where AI tools can step into the picture. Host Melissa Gonzalez interviews Nishith Rastogi, CEO and Founder of Locus, on today's episode of Retail Refined to find delivery solutions for retailers. Locus provides software solutions that can help retailers meet both environmental regulations and meet customer desires. His company prides itself on helping retail clients, like Unilever, replicate their brick-and-motor experiences before packages are delivered to their doorstep.
Nishith explains how Locus's cloud-based software:
Adapt to on-the-ground logistic problems
Assess data to design strategies that are both cost-effective and climate-friendly
Find tangible ways to optimize CX
Nishith has witnessed firsthand the shifts in consumer expectations. He attributes the acceleration of these changes to the pandemic. "My parents are now avid e-commerce customers. At this point, investing in the Last-mile is critical to retain these customers because clients expect it, " Nishith says.
Nishith is the CEO and founder of Locus and drives business strategy and innovation at the company. He is responsible for business expansion across geographies and heads operations globally. Prior to founding Locus, he worked with Amazon, building algorithms to counter credit card fraud. He also co-founded PinChat, a location-based conversation platform. Nishith holds a Bachelor's degree in Electronics and a Master's in Economics from BITS Pilani. He is a published author in the field of experimental physics and has patents in Machine Learning.
Listen to Retail Refined on MarketScale or wherever you find your favorite podcasts.
Latest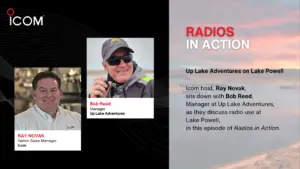 November 29, 2023
Delving into the serene beauty of Lake Powell, the Icom Podcast "Radios in Action" pairs the thrill of personal watercraft adventures with the crucial use of marine radios. Host Ray Novak and Bob Reed, the Manager of Up Lake Adventures, discuss the enthralling experiences offered by Up Lake Adventures in Utah's majestic landscapes. In […]
Read More