Making a Connection: The State of Cybersecurity for Industrial Networks
Industrial networks are under threat from cyberattacks. On Feb. 8, Oldsmar, Florida, announced a cyber intrusion into its water treatment system. They detected the attack, but only after network infiltration.
David Zaveski, Product Manager at Antaira, spoke about the threats to industrial networks, what makes it easy to infiltrate them, and what IT departments can do to prevent such attacks.
Zaveski's previous roles included working with enterprise networks, and this background gave him a lot of experience in understanding the importance of keeping networks secure. This experience is something he wants to bring to industrial networks, too.
"Industrial networks are quite different from enterprise networks," Zaveski said. "They are required to have quicker responses across networks, but many are unprotected."
Many industrial networks are protected from outside cyber interference through "air gapping" their networks by restricting connectivity from the outside. This provides a sense of protection from cyberthreats. And Zaveski said that does protect them. So, why are there breaches?
"What happens is, at some point, another somebody gets the idea that they want to be able to monitor the system remotely, and I want to connect that data and publish it for later planning," he said. "As soon as they do that and attach that network to the public network, or internet, [risk is there]."
Now, a pathway to infiltrating that once-protected industrial network is created, and the cybersecurity risks begin.
Protocols and devices deployed across a network can keep them more secure. Still, any organization's most important step is to restrict network access to just what individuals and devices need it, not carte blanche accessibility.
"Look at your network, and say, 'I know I have A, B, C devices, and I know that A needs to communicate with B and C, but B and C never need to communicate with each other. So, I should block all traffic going from B to C.' That's great," Zaveski said. "Because, now, if somebody hacks in at B, at least they can't get to C."
Follow us on social media for the latest updates in B2B!
Twitter – @MarketScale
Facebook – facebook.com/marketscale
LinkedIn – linkedin.com/company/marketscale
Latest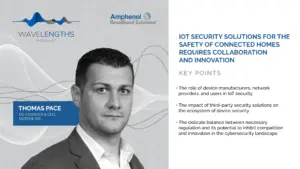 November 28, 2023
Since the introduction of smart devices, the world has increasingly become dominated by interconnected devices but IoT securitydemands are also growing. The "connected home" has shifted from what was once a futuristic concept to reality. With the global smart home market projected to reach $135.3 billion by 2025, the conversation around the security of these […]
Read More