Print Precision: Color Management Part Two
"You're better off making a new profile than re-linearizing, as that doesn't solve color problems." (Adams)
Color management is an essential aspect of printing. Managing it and ensuring it's correct can be a challenge for operators, especially if you have cheap equipment. Ideally, print companies want high-quality color profiles that are accurate while also keeping ink costs down. Mike Adams, an expert on color correcting in the industry, joined Print Precision host Daniel Litwin and DigiTech Founder and President Patric Coldewey. Adams is the President and CEO of Color Correct and has 16 years of experience.
Adams said, "When there's a color management problem, most people think they need to re-linearize. That's the process of printing set patches from 0 to 100% of each color. Then you read the dot grains, and it creates a curve."
While linearization has been a pillar in color correction, Adams noted it's a "misguided strategy." He argued that linearization doesn't fix color problems. His advice is to create a new profile. He added, "The biggest culprit of bad color is usually the artwork."
Adams noted that DigiTech printers are in a different category regarding speed and the longevity of print heads. "With our printers, we want users to get the most out of their investment, using the print heads throughout the lifetime of the printer," Coldewey said.
Next, they talked about reducing ink usage so that high-volume print jobs are "good enough." Coldewey noted, "There are steps to take for some signs where color isn't as important."
Adams acknowledged that this is possible with gray component replacement. He explained, "The color's value doesn't change, but the lightness or darkness can. It's replaced by black, so it's adjustable to save ink and increase margin."
Latest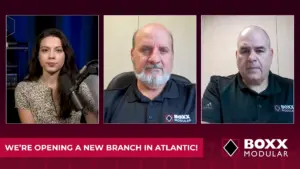 December 4, 2023
In an era where construction innovation is reshaping the industry, modular construction's growth continues to rise. In this episode of Built Modular, Boxx Modular's strategic expansion into Moncton, Atlantic Canada takes center stage. Host Gabrielle Bejarano welcomes Charles Landry and Ray Girouard to explore the implications of this venture. Bejarano, Landry, and Girouard discuss […]
Read More