Print Precision: Understanding the Importance of Color Profiles in Digital Printing
If you're in need of enterprise-level digital printing, you're going to need a color profile. And, as an end-user, it may be tough to understand what level of detail your color profile needs to be and how to choose the printing solution to meet those needs.
But it's important to do so. Making the wrong choices can result in wasted time, money and material trying to get the color of your images correct.
Host Daniel Litwin is joined by Patric Coldeway, Founder and President of DigiTech, as well as Mike Adams, Founder and Owner of Correct Color, to highlight the importance of color profiling for those with digital printing needs.
Printing technologies have changed a lot since Adams first started his business in 2005.
"When I first started Correct Color, there wasn't such a thing as a UV printer, and now that's become a big part of the market," he said, thinking back to his early days. "They print differently, so there's a different philosophy and attitude and importance of how you create a profile for those types of machines."
Understanding the nuances of digital printing and the specs your images need is important, as well. Coldeway noted that avoiding the use of light colors could save companies an additional 20-30% in ink annually. However, Adams reinforces the need to start with the basics first and foremost.
"The print is what you sell; the digital part is just the tools to get there. And if you don't understand the physics of printing, I don't care how much of a computer geek you are – you're not going to be very good at color management," Adams stated.
Subscribe to the Print Precision podcast on Apple and Spotify for more knowledge and expertise in the field of digital printing, as well as a full catalog of previous podcast episodes.
Follow us on social media for the latest updates in B2B!
Twitter – @MarketScale
Facebook – facebook.com/marketscale
LinkedIn – linkedin.com/company/marketscale
Latest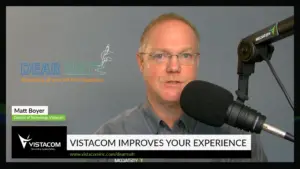 December 11, 2023
In a time when the AV industry supply chain faces unprecedented challenges, understanding its current status and future trajectory is crucial. In this week's segment of "Dear Matt," presented by Vistacom, host Matt Boyer, the Director of Technology at Vistacom, brings his over 30 years of experience in the audiovisual industry to the status […]
Read More