CineCast: How Strong Setups Can Enhance Remote Workflows in the Film Industry
Mike Nuget has always been ready to work from home.
As a freelance colorist, Nuget often goes to post-production houses to work, but he's also had a home setup for years with the software he needs to do his job and work with producers and directors all over the globe.
With the COVID-19 pandemic creating the need to shelter-in-place, most people have become remote workers, putting Nuget in a unique situation as one of the few people in the industry who was prepared for that change.
He was working on a five-episode series that suddenly needed to get wrapped up quickly with people contributing from a number of places.
"When the pandemic kind of really struck and they were kind of shutting everything down, literally, at that moment, all five episodes were being worked on at the same time," Nuget said. "It was literally the worst time that this could've happened, because we had so much going on."
Nuget took on a bigger role, adding responsibilities beyond the colorist position.
He's leaned heavily on tools like Cinedeck's cineXtools and its file delivery system, which can shrink the time it takes to make changes a producer wants by hours.
"That insertion ability, it's just – it's priceless," Nuget said.
Nuget isn't sure if work will ever look the same after the COVID-19 crisis, but he was happy he'd prepared himself to work from anywhere now that working from home is a requirement.
Follow us on social media for the latest updates in B2B!
Twitter – @MarketScale
Facebook – facebook.com/marketscale
LinkedIn – linkedin.com/company/marketscale
Latest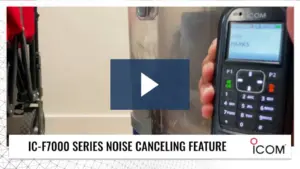 September 27, 2023
In this brief product demonstration video, ICom's IC-F7000 Series receives a mic test of its noise-canceling feature. Through the two demonstrations it is clear the IC-F7000 removes loud ambient noise for clear two-way communication.
Read More