Self-checkout: The Expansion of Machines
Shoppers may not like them, but self-checkout machines aren't going anywhere soon. That market is growing and expanding beyond the grocery store.
The Bureau of Labor Statistics indicates the number of cashiers will fall by 10% over the next decade due to a competitive labor market and the expansion of self-checkout machines. Fewer cashiers mean more self-checkout lanes. Still, a survey of 1,000 shoppers in 2021 found that 67% experienced issues and errors using a self-checkout lane. It's clear; customers don't care for them, but retailers may have no choice but to continue increasing self-checkout to keep up with demand.
Customer satisfaction is an essential metric for retailers in all sectors. Retail must recognize the customer, and with self-checkout shortcomings prone to higher losses than traditional cashiers due to errors and theft, the industry must improve self-checkout technology to provide a better shopping experience.
James Prebills, Host of Point of Scale at MarketScale, examines the situation.
James' Thoughts
"We're seeing that retailers are continuing to adopt autonomous POS solutions or self-checkout machines, even though consumer sentiment with this shopping experience remains extremely low. If you were to survey consumers on how they feel about these self-checkout machines it'd be resoundingly negative.
They're often buggy, they're not immediately accessible interface experiences. But don't be surprised if we continue to see this adoption at retailers rise and work with their POS solutions provider to create a more favorable experience. The main reason, in my opinion, we're gonna continue to see this, is that the labor market, especially for hourly wage positions, remains incredibly competitive.
These autonomous solutions provide a way for retailers to have shorter waits at the checkout experience, even if there are buggy issues and problems around more flexible hourly scheduling. And that is still a more favorable experience than a long checkout line, just waiting for a human worker to do it.
Although this consumer sentiment around these solutions and their adoption remains extremely low, I think we're gonna see it continue to rise going forward as well as the adoption of hybrid POS solutions, a checkout machine that can be manned by a person during peak hours, but then during lower hours, can be actually converted to an autonomous machine."
Latest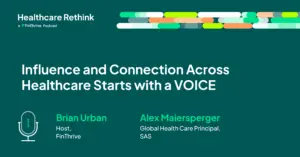 September 29, 2023
In the latest episode of the Healthcare Rethink podcast, presented by FinThrive, host Brian Urban sits down with Alex Maiersperger, the Global Principal Healthcare at SAS. Their conversation charts the role voice plays in influencing and connecting the healthcare industry. Maiersperger, who co-founded the Advancement League, shares his journey from being a healthcare optimist to […]
Read More