Service Providers Adapting to Meet Today's Needs
Service providers of the past may have had the luxury of time. While new technologies constantly are emerging, implementing those technologies or streamlining their processes was something that could wait.
In today's marketplace, however, that simply isn't the case, said Kyle Siniard, VP of Technology for 3-GIS
"There's no longer an appetite to wait six to 12 months for some new piece of equipment or for some new requirement inside my network design or how I'm provisioning things," Siniard said. "As I start to adjust those things, I need to do it right now because, if I don't do it right now, someone else is, and I can't get behind. I need to be the first one here, and [I] need to go get these new customers and sign them up. In order to do that, I have to be able to adjust to meet the needs of today.
Companies like 3-GIS can get companies up to speed by providing the systems to get optimized data models and real-time information, whether it be an industry giant like Verizon with 70 different locations or a much smaller operation
"I have 70 different, almost, projects going on and being run in a different format. I then have 20 different vendors managing these markets, so, even organizationally, the businesses I'm working with operate slightly differently. Then, I have 5,000 users or more across all those 70 markets, 20 vendors and my internal team," he said. "In an eight-month period, we took all those different markets, different vendors and all of those users, and we converted that data and moved them into a single system – a unified data model. That data model is maintaining almost 85,000 geospatial files, it's got 25,000 fiber miles … and then, in terms of the sheer volume of data, it's over 130 million different records.
Smaller service providers may have different challenges, but those are tasks 3-GIS is ready to take on and handle with the experience and expertise garnered in working with some of the biggest providers in the world.
Twitter – @MarketScale
Facebook – facebook.com/marketscale
LinkedIn – linkedin.com/company/marketscale
Latest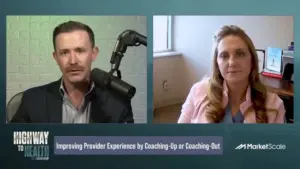 November 28, 2023
Improving healthcare is a multifaceted challenge, with the provider experience playing a pivotal role alongside patient care. In a recent episode of the "Highway to Health" podcast, host David Kemp delved into this critical issue with Stephanie Prechowski, MBA, MSN, RN, AGCNS-BC, CNOR, Chief Operating Officer at Surgeons Choice Medical Center. In this episode, […]
Read More