Streamline Operations with Maestro PMS's Integrated Solution
Key Points:
Integration vs. best-of-breed software debated at IACC Americas Knowledge Exchange

Maestro PMS's sales and catering module features multi-property support, contact management, and online guest management capabilities

Streamline operations and simplify event management with Maestro PMS's integrated solution
Summary:
The recent International Association of Conference Center's (IACC) Americas Knowledge Exchange conference of 2023 was a huge success, as business leaders, planners, and hospitality enthusiasts gathered to discuss daily challenges impacting their hotels. One hot topic was the debate between integration vs. best-of-breed sales and catering software, hosted by Maestro PMS. The interactive session, led by senior sales consultant Mark Kelly, highlighted the benefits of a more holistic approach to event management.
While recognizing the value of dedicated sales and catering software, the session emphasized the importance of pairing it with a Property Management System (PMS) that has strong group management capabilities. Maestro PMS's sales and catering module boasts a range of features, including multi-property support, single account history, full contact management, automated task messaging, group management across departments, secure digital contracts with e-sign, prepayment portals, multi-room availability display options, diverse budget, pays and activity reporting, online attendee and custom group management pages, direct rates availability access, and integrated online guest management capabilities.
The IACC Americas Knowledge Exchange demonstrated that the meaning of business is back in full swing. By sharing practices and discussing daily challenges, attendees gained valuable insights into the industry's latest developments. With its comprehensive PMS and sales and catering module, Maestro PMS proved to be an excellent partner for businesses looking to optimize their event management capabilities.
Latest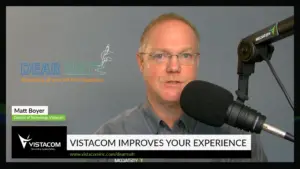 December 11, 2023
In a time when the AV industry supply chain faces unprecedented challenges, understanding its current status and future trajectory is crucial. In this week's segment of "Dear Matt," presented by Vistacom, host Matt Boyer, the Director of Technology at Vistacom, brings his over 30 years of experience in the audiovisual industry to the status […]
Read More