Technology Leaders Are No Longer Behind the Scenes, They Are Integral for Driving Strategy
Toby Buckalew, Interim CIO, Columbia Advisory Group, is a leading technology strategist with over thirty years of industry experience. Jason Claybrook sat down with Buckalew for an in-depth discussion on his career and insights into the current state of IT management.
Buckalew witnessed plenty of technology evolution and innovation during his lengthy career in IT. And he feels lucky that he's been able to implement those technology changes as they've occurred. It keeps life exciting and fresh, and it's one of many reasons he loves what he does.
"Where I've been successful is helping a company understand technology's not just a service center," Buckalew said. "It's a valuable strategic asset for you if you leverage it correctly."
To achieve that success, Buckalew said organizations needed to have the right people on the technology bus who understand the importance of technology's role. The head of technology for an organization is no longer someone behind the scenes; they are an integral voice inside the company that drives strategy.
As a consultant, Buckalew is often called upon to get companies into alignment. To do that, he incorporates what he calls his seven pillars of technology. "It's looking at everything based upon seven core elements. It's a framework that's been successful for me."
Some of those elements include people, which Buckalew said often gets overlooked at organizations. It's essential to look at the people's skills within the organizations and recognize the talent lurking beneath the shadows. And once established, the organization needs to put the proper processes in place for their people to be successful and give them the tools they need to do the job.
More Stories Like This:
Latest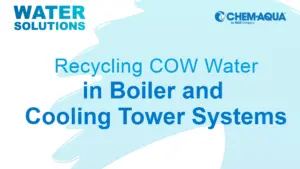 December 7, 2023
For the latest episode of ChemAqua's Water Solutions podcast, the focus was on an innovative approach to water conservation in the dairy industry. The show examined the potential of reusing Condensate of Whey (COW) water, a byproduct of dairy processing, and highlighted some of its economic and environmental benefits. Hosted by Dani Waddell, the informative […]
Read More