The Benefits Of NVME and NVME-oF For High-Performance Storage
Over the past five years, a new version of Non-Volatile Memory Express storage protocol has been working to bridge the gap between networks and NVME. This new version is called NVME-oF (Non-Volatile Memory Express – Over Fabrics) and is furthering this technology, which relies on low-latency data paths to create high-performance stored media.
In this episode of The Rugged Edge Survival Guide, a Premio Podcast, host Daniel Litwin talked with Sean Chen, a Solution Architect at Premio, Inc. The duo spoke about this new version of NVME, how it's impacting commercial use cases and how the data center industry is taking advantage of NVME-oF through its hardware.
NVME is the next generation of source communication language. The previous language, SATA, or Serial ATA, had been around for over 30 years.
"NVME is the streamlined protocol for talking to a solid-state drive and flash memory with sole latency for super high performance," Chen said.
The most common place to see NVME in the client space is where clients need to run several operations through different threads. Data is much quicker via an NVME at a lower latency with quickness, allowing companies to handle large storage loads.
NVMEs do have some limitations, according to Chen. While it can directly attach to a computer, which is a positive, it has to be connected locally to the server. This will limit how many drives can be put into a chassis.
Listen to learn more about NVMEs, where they first hit the scene, and how NVME-oFs improve upon the technology.
Follow us on social media for the latest updates in B2B!
Twitter – @MarketScale
Facebook – facebook.com/marketscale
LinkedIn – linkedin.com/company/marketscale
Latest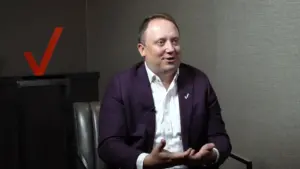 December 1, 2023
For a special episode of The Verizon Partner Network the focus was on the considerable role of partnerships in the Verizon Partner Program and the leaders shared their perspectives on the initiative. Their conversation brought about a lot of thought-providing context on the evolving telecommunications landscape. In today's era, collaboration and integration are key to […]
Read More