The Editor in Chief of DroneLife Shares the Biggest Opportunities for Uncrewed Systems
Miriam McNabb is no stranger to the drone industry. McNabb, who works as the Editor in Chief for the drone news site DroneLife, has worked in and around the tech industry for over a decade. McNabb sits down with Drones in America host Grant Guillot to discuss the current and up and coming drone sector.
"I think one of the really kind of exciting themes that I'm seeing in the past few months is drone delivery… This year I really think there have been some big strides forward and that's with Google's Wing program which is residential drone delivery…[which] is opening up drone delivery to all kinds of retailers, large and small." McNabb said.
With companies like Alphabet and Walmart progressing their drone delivery systems, the onset of the pandemic has actually helped the public embrace this easier, faster, and more efficient mode of delivery.
McNabb highlighted her experience at the most recent drone expo and how start-ups have really hammered down these past two years and developed and thrived in the face of the pandemic. Of this, Guillot said, "We have an industry that can lend itself to providing hope with so many use cases."
With the current labor shortages plaguing companies across different industries, McNabb hoped that these uncrewed systems could help fill that gap, "There's just so many ways that they can cut the amount of time."
Additionally, McNabb pointed to all indications tha BVLOS flight is coming and it's coming soon along with heavy lift drone delivery, "We are moving into a world where BVLOS flight and heavy lift drones are going to facilitate cargo delivery."
Upcoming advances in drone technology will transform the industry and are set to transform cargo delivery to hard-to-reach locations, like pipelines, oceans, mountains.
More Stories Like This:
Latest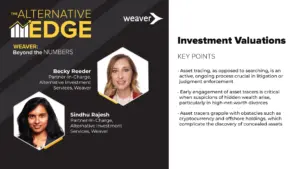 December 4, 2023
In this episode of The Alternative Edge, a Weaver: Beyond the Numbers Podcast, host Becky Reeder, an audit partner and co-leader of the alternative investments practice at Weaver, engages with Sindhu Rajesh, an Alternative Investment Services Partner with Weaver. They unpack the complexities of venture fund valuations, offering critical insights into industry dynamics and best […]
Read More