The Importance of Maps in the Modern Real Estate Market
Key Insights:
MapRight serves as a real estate asset management and real estate transaction tool.
The visual power of maps serves as a creative, useful, and successful tool in presenting critical information to others.
Sending, receiving, and creating maps allows users to further adapt to the remote world.
---
Maps have been used, stored, and sometimes revered, for centuries. Their importance cannot be overstated. Mapright, a real estate transaction and real estate asset management mapping platform, knows the value of utilizing maps to present, understand, and view critical data points.
CEO Steve Roberson discusses the advantages of using maps in the workplace, how maps help shape the COVID-impacted working environment through building interaction, and how MapRight is set to change the GIS industry.
Read Steve's Thoughts:
Hi, my name is Steve Roberson. I'm the CEO for MapRight and I'm here to talk with Marketscale. Everybody needs to know about MapRight because we're the mapping platform to use for any real estate transaction. We're also the mapping platform to use for any real estate asset management project too. And our goal is to change the way real estate is understood, managed, and marketed.
Our interactive and mobile maps are a revolutionary way to present a tremendous amount of critical information about a property or project to your colleagues, clients, and prospective buyers. We want to make map creation, simple, fun, and quick.
This gives the informally trained professional who needs maps for their job, the power to create cutting-edge, compelling professional maps in a matter of minutes. Trends we expect to continue to see, specific to MapRight, is we continue to expect to see the rapid adoption of MapRight throughout various real estate market segments.
In general with mapping, I would expect web and mobile mapping to become more powerful in addition to its performance capabilities with big data and for the adoption of interactive and mobile mapping applications to continue to grow at a rapid pace. Our industry changed with COVID as many did. The adoption of online communication tools rapidly advanced during these past two years.
We've also seen this with our business: the ability for our subscribers to easily send fully interactive maps to clients and allow those colleagues to use those maps for presentations, collaboration, and on their mobile device onsite has helped many people adapt to the current remote work climate everybody now lives in.
And what are we excited the most about in 2022? Well, we're always working on new features for MapRight so we're always excited but this year is special for us because we're kicking off a new evolution of MapRight, which is something that I personally dreamed about for many years. This next evolution of the platform, it will be truly unique in the GIS world, and this time I believe we will fundamentally change the way GIS is used in business.
Latest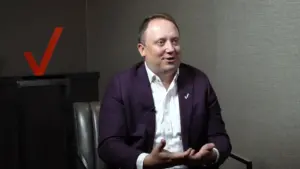 December 1, 2023
For a special episode of The Verizon Partner Network the focus was on the considerable role of partnerships in the Verizon Partner Program and the leaders shared their perspectives on the initiative. Their conversation brought about a lot of thought-providing context on the evolving telecommunications landscape. In today's era, collaboration and integration are key to […]
Read More