The Product Strategy Process (Part 2)
In part two of a series on analyzing and building actionable tips for developing mobile applications, platforms and digital or mobile experiences, Host Daniel J. Litwin welcomed back Shockoe industry experts Chandler Tyler and Mason Brown, both product strategists, and Toz Grewal, a product analyst. The group dove deep into the company's strategies and how other companies can adapt and apply them as well.
The panel stressed the importance of working with clients for solutions. "We get to work very closely with people both at Shockoe and with our clients to really gain different perspectives on what product development means for different roles," said Tyler.
Brown added, "I think one of the biggest upsides of us and the entire shop is that our software process is pretty transparent when you're working with us."
"People want to feel heard," commented Grewal. "The client feedback and the client response is a persistent aspect of what informs everything that we do… I think is kind of a foundational of how we approach that problem."
They also spoke to the importance of having a cross-functional team, where the process is not handed off from department to department but is a collaborative situation.
For instance, Brown and Tyler described how the product strategy team works with clients to pinpoint important aspects of a project in the development stage, sometimes even working with clients on site for a hands-on approach. Grewal agreed, further pushing the importance of teamwork.
"Nothing happens in a vacuum. Strategy doesn't happen in a vacuum; design does not happen in a vacuum, and development does not happen in a vacuum," Grewal added. "So, similarly, those three efforts function in their best possible form when they're done in tandem with the client and in tandem with each other."
Litwin will be back with the panel for the third and final installment of the product strategy process on the "Haptic Feedback" podcast.
Latest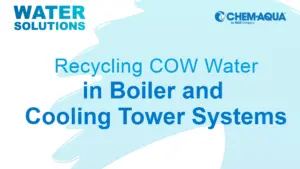 December 7, 2023
For the latest episode of ChemAqua's Water Solutions podcast, the focus was on an innovative approach to water conservation in the dairy industry. The show examined the potential of reusing Condensate of Whey (COW) water, a byproduct of dairy processing, and highlighted some of its economic and environmental benefits. Hosted by Dani Waddell, the informative […]
Read More