The SVB Shutdown Proves It. It's Time to Rethink How We Fund Startups.
When headlines read about banks collapsing, we think of 1929, of 2008, and crashing markets. But is that what's happening with the fall of the SVB? As of now, no, but that isn't to say that the implications of the fall of the tech industry's favorite bank won't have long lasting and potentially global implications. It's clear that, based on SVB's deep portfolio with new technology innovators from the U.S. to China, the biggest impact from the SVB shutdown will be for startup banking and the young companies it backed with its back funds.
The US is a global hub for tech startups, and while they're popular, they're known to be risky for investors and lenders. Tech startups and their volatile market are too risky for most banks, which necessitated and opened the door for a bank that specialized in this type of risky startup. Enter Silicon Valley Bank. The problem is that because so much money floods into startups, according to NPR, as little as 4% of SVB deposits are less than $250,000, which means they exceed standard federal insurance and in the case of a bank meltdown potentially leave clients out to dry for millions of dollars worth of depositor funds. Amid a season of layoffs across the industry already, many fear this could cripple the startup industry as a whole.
Questions around not only how startups collect money, but how their banks handle it are now being scrutinized from industry analysts. For Dan Newman, founding partner & chief analyst at Futurum Research, no matter how you approach the issue, the SVB shutdown spells bad news for startups and should inspire some introspection and action for those who see tech startups as an essential part of the U.S.' competitive footprint.
Dan's Thoughts:
"While the political fallout of the SVB collapse will create a big rift between Main Street and Wall Street, between the tech community in the Silicon Valley and everyone else that builds a company, the truth is, it has come a time where we need to discuss the funding of startups and the continued ability for our important technology ecosystem to thrive.
The US is a leader in technology and innovation, and the Silicon Valley is the funding mechanism that makes so many of the startups that are important technologies fundamentally used in our businesses and our lives to thrive. The SVB collapse wasn't so much about startups, though. Startups are the political scapegoat in this case it was really about how big banks utilize the capital that gets invested by startups into startups by venture capital, and then has to use those dollars to either play in venture debt or to use the deposits to drive returns to shareholders. And this is gonna bring a ton of scrutiny in that area.
But having said, anything that makes it even harder for startups to be supported by the venture angel investors, private equity community is gonna be bad in the long term. So, it's gonna be important that we figure out how to solve this. And of course, it's good that the attention has been brought to the situation, but SVB or any other part of the banking system collapsing is very bad for America and it's very bad for the world."
Article written by Graham P. Johnson.
Latest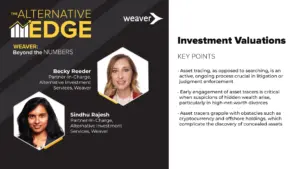 December 4, 2023
In this episode of The Alternative Edge, a Weaver: Beyond the Numbers Podcast, host Becky Reeder, an audit partner and co-leader of the alternative investments practice at Weaver, engages with Sindhu Rajesh, an Alternative Investment Services Partner with Weaver. They unpack the complexities of venture fund valuations, offering critical insights into industry dynamics and best […]
Read More