UAE Space Agency Launches Big Data for Earth Observation Projects
Private and public space organizations are getting more well-acquainted the value of large-scale data analytics platforms to help guide the next era of space exploration and commercialization. This data adoption trend is a global one, and the coming wave of big data for Earth observations projects is poised to set new standards for space services and applications that bolster both government operational efficiency and private sector competition.
The newest of these adoptions of big data for Earth observation come out of Abu Dhabi in conjunction with the internationally recognized Abu Dhabi Space Debate. The UAE Space Agency recently announced a partnership with AI-powered geospatial intelligence company Bayanat to launch a geospatial analytics platform for the government's Space Data Centre. Through large-scale data management and processing capacity, the analytics platform will produce detailed reports to inform research and business decisions based on data sourced from Earth observation satellites.
While its function is of course tied up in the government's strategic geopolitical and economic plans, this big data deployment will also function to give the scientific community, government agencies, corporations, startups, and even just community members access to satellite data to develop new space data apps, VAS and solutions.
What are the implications of this geospatial analytics platform launch, and how should the space community weigh this newest use case for big data for Earth observation projects? Ryan Duffy, managing editor at modern space media brand Payload, and a speaker at this year's Abu Dhabi Space Debate, gives his key takeaways from the UAE's big data announcement.
Ryan's Thoughts on Big Data for Earth Observation
"So as satellite capacity and the earth observation sector both grow, so too does the number of end users. And for those end users, there's growing demand for software analytics solutions, algorithms and tooling that delivers high signal-to-noise insights with more rapid turnaround times. Fortune 500 companies and nation states alike need these analytics and algorithms tailored to their use cases.
Whether it's cloud cover terrain or something like soil moisture levels, countries around the world have quite different needs for their earth observation images and models. So, I think there's riches and niches, and while we see companies flying their own satellites moving up to stack into these products, there's also tons of smaller shops building these for these specific niche end use cases. So that's the benefit for space agencies is that they can pick and choose what they build versus buy and work with the wide range of companies across the value chain."
Latest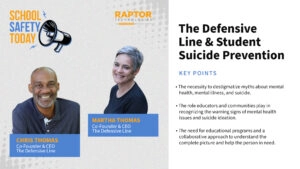 September 22, 2023
Student suicide prevention is a paramount concern among mental health providers. For one organization, student suicide prevention is more than a concern: it's their mission. The alarming rise in mental health crises among youth has become a pressing concern in recent times. With the complexities of modern life and the challenges of the digital […]
Read More