What a Difference a Font Makes
Creative professionals know the importance typography and fonts make to the success of a project. Host Toby Martin tapped three creative professionals to talk shop on typography.
In the discussion, Laura Lothrop and Jeff Boyce, two Art Directors from CMD, joined Extensis's Creative Director, Kerry Gelhar.
Lothrop, Boyce and Gelhar all share a passion for art and design that bloomed at a young age and pursued it as a professional career. One other commonality these creatives all have is the need for topography in their work.
"There are main elements in design, and typography is one of the biggest," Boyce said. "You have your general layout, your photography or your imagery, and you have typography. Typography is a keystone of design. You have to know what works and what doesn't work and what is right for your project."
"I think, as designers, type is something that you are going to be interacting with every single day," Lothrop said. "When you look at breaking down those elements of design, type is what's telling the story and what is communicating to other people, so it is so important."
"The right font can even make it easier for people to read for people who have certain challenges," Gelhar said. "For example, Dyslexia or color blindness. So, yeah, it's pretty much what our world revolves around."
Latest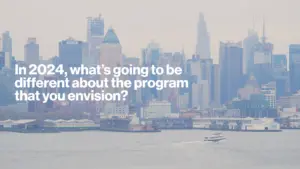 December 1, 2023
In the dynamic telecommunications landscape, Verizon's Partner Network continues to evolve, adapting to new trends and opportunities. For another segment featuring Mark Tina, VP of Indirect Channel Distribution and Channel Chief at Verizon Business Group, he explores exactly what types of significant changes and advancements the Verizon Partner Network will see in 2024. In this […]
Read More