Why Data is the Real Value Behind VR
On Spatial Perspectives, host Dan Cui will have a one-on-one dialog with innovators and thought leaders in the growing Spatial Reality, or Spatial Computing, market. Cui will invite guests who can discuss the real world use cases of the technology and how it could benefit mankind while exploring any drawbacks and how they might be mitigated.
It is an undeniable fact that data affects our everyday lives. While data gets a bad rap in the news when associated with data breaches or privacy concerns, the collecting and analyzing of data can change lives. Stan Karpenko, Co-Founder & CTO at GiveVision knows this first hand. Dan Cui, Host, Spatial Perspectives, sat down with Karpenko to learn more about the true value of data.
GiveVision's goal is to make the lives of visually impaired people better with the help of their products and services. One such asset they provide to those who are visually impaired is a services product that's attached to their glasses that will allow the clinicians to have the ability to actually monitor their patient and provide new treatment regimes for that patient based on what they see happening on a daily basis.
When it comes to data, Karpenko feels it is a vital element of developing products that can help people. "I think the data becomes the key part. I think the hardware becomes irrelevant over time, it will become a commodity. The real insights and the real values in the data," Karpenko said. He posed important questions like, can we effectively collect the healthcare data about the patient over a long period of time to make clinical decisions? Can we arrive at a point in time where we don't need the patient to call the doctor when they can feel the symptoms? Can we pick up the symptoms before they can feel them? "So the entire sort of changing the career pathway is really what we see as the biggest opportunity facing the AR and VR world. I think, in reality, there's an enormous opportunity for AR and VR companies to develop products that will, just the same as smartwatch, become just a vehicle to collect healthcare data for the benefit of the patient," Karpenko explained.
He believes that those devices will be used for entertainment, or in our case as an enabler for them to do things. "But as a byproduct of that, they will be able to watch for patients and inform the doctor when they need to see the patient before it's too late. So thinking about preventative medicine if you like," Karpenko said.
For more insight into how data is a key element of progress, listen in to this week's episode of Spatial Perspectives.
Follow us on social media for the latest updates in B2B!
Twitter – @MarketScale
Facebook – facebook.com/marketscale
LinkedIn – linkedin.com/company/marketscale
Latest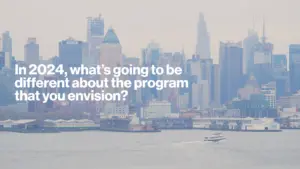 December 1, 2023
In the dynamic telecommunications landscape, Verizon's Partner Network continues to evolve, adapting to new trends and opportunities. For another segment featuring Mark Tina, VP of Indirect Channel Distribution and Channel Chief at Verizon Business Group, he explores exactly what types of significant changes and advancements the Verizon Partner Network will see in 2024. In this […]
Read More