Spatial Perspectives: A New Technology Series
On Spatial Perspectives, host Dan Cui will have a one-on-one dialog with innovators and thought leaders in the growing Spatial Reality, or Spatial Computing, market. Cui will invite guests who can discuss the real world use cases of the technology and how it could benefit mankind while exploring any drawbacks and how they might be mitigated.
Pushing the boundaries of immersive experiences, mixed reality (MR) merges the physical world (AR) with a virtual world (VR) to create new environments—a spatial reality where both physical and digital objects interact with one another in real-time. Today, mixed reality technologies enable a plethora of potential applications, proving to be a game-changer for industries spanning education, engineering, entertainment, healthcare, retail and more.
Exploring the world of all things relating to augmented, virtual, and extended reality, Spatial Perspectives—a podcast series hosted by Dan Cui, a technology ambassador—brings industry innovators and thought leaders to together to discuss their contributions and insights in the rapidly-evolving spatial reality arena. And on today's podcast, Caspar Thykier, Founder and CEO of Zappar Limited, joins Dan to chat about the company's all-new ZapBox MR kit.
Designed around the Google cardboard headset that took the world by storm in 2014, the ZapBox has been in creation for more than five years. Enabling developers and businesses to reimagine how they design, build and create 3D experiences, the ZapBox Mixed Reality kit sports an amped up form-factor that's powered by a smartphone and features two fully-tracked controllers along with a Unity plugin. It provides a super-simple solution that's comfortable to wear at an exceedingly reasonable cost—just $40—a "magic-cheap" price that the company hopes will democratize MR and put the technology into more users hands.
"The thing that we've found when we've spoken to a lot of these organizations, is they're so excited about the opportunity of mixed reality and XR in general, but the cost is quite prohibitive when it comes to the hardware. When you're trying to do it in a learning environment where you need or want to have quite a few that the kids or a classroom can use, that becomes challenging," explained Thykier. "How do we bring the immersion, the excitement around mixed reality to people but at a price point they can afford?"
Launched via a Kickstarter campaign that ends next week, ZapBox, as of this writing, has already reached and exceeded Zappar's funding goal.
According to Thykier, this is when "the real work starts really, because it's like, right—now we've got to push the button on manufacturing," said Thykier. "We've got to get everything as good as we want it to be, which is really exciting. That's a really big thing for us 2021."
To learn more about Zappar, watch videos demonstrating the ZapBox solution, dive deeper into AR, VR and MR technologies, and hear Thykier's prediction for use cases as we Sptahead into the future, tune in to the Spatial Perspectives with Dan Cui podcast today.
For the latest news, videos, and podcasts in the Software & Electronics Industry, be sure to subscribe to MarketScale's industry publication.
Follow us on social media for the latest updates in B2B!
Twitter – @MarketScale
Facebook – facebook.com/marketscale
LinkedIn – linkedin.com/company/marketscale
Latest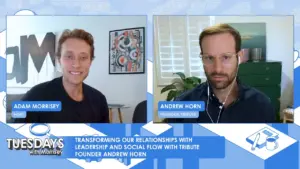 November 28, 2023
Can relationships be transformed through leadership and social flow? Navigating the intricate web of digital relationships can be a tricky proposition. Tuesdays with Morrisey's Adam Morrisey uncovers the transformative impact of emotional recognition in the workplace with Andrew Horn, the mastermind behind Tribute. This podcast edition unravels the story of a platform redefining how […]
Read More