Why the Merger of the PGA Tour and LIV Golf is Great for Golf
The PGA Tour, LIV Golf, and DP World Tour have announced their merger, putting an end to the conflict that has dominated sports business news for the past 18 months. The PGA Tour's merger with LIV Golf, a Saudi-backed men's golf organization, has generated significant attention. The merger comes after a period of conflict between the PGA Tour and LIV Golf, with the latter being formed as a competitor to the PGA. The move has raised concerns about Saudi Arabia's involvement in the sport, drawing reactions from the U.S. government and 9/11 survivor groups. However, the PGA Tour made the strategic decision to unify with its former rival, citing the need for a unified effort and the potential financial benefits. The merger's financial details remain undisclosed, but LIV Golf players were reportedly promised substantial earnings. The reaction to the merger has been mixed, with supporters emphasizing the financial opportunities and others expressing concerns over the Saudi-backed involvement in the sport. Regardless of the outcome, no recent sports storyline has commanded more attention than the conflict between the PGA Tour and LIV Golf.
Patrick's Thoughts
"There is no bigger sports business news that has dominated the headlines in the last 18 months than the conflict between the PGA Tour and LIV Golf. Well, now it appears that that conflict is over with the groundbreaking news that the PGA Tour, LIV Golf and the DP Tour, the European Golf Tour, are going to merge. Now there are a lot of unanswered questions that are still going to come forth from this, but ultimately this is a good thing for the global interest of the game of golf. There will be more money, there will be more opportunities for fans to watch the sport, there will be more opportunities for sponsors to reach consumers across the globe because now golf will be in more places and it's going to be more accepted. There's going to be a different variety of golf products out there, not just the traditional PGA Tour events and major championships, but for those people that want to see this other style of golf where the LIV events have the team component, the shotgun starts, the fan festivals before play starts on any given day of those three day events. You're going to have an agglomeration of different style of golf events and this is good for the game, it's good for bringing other fans in, it's good for bringing in young fans and every sports league is craving the younger fan.
Ultimately this merger between the PGA Tour, the DP Tour and LIV Golf is a good thing for the sports industry, it's a good thing for the golf industry, it's going to give opportunity for more advertisers, again to reach more people, it's going to certainly be good financially, it already has been good financially for the golfers. When LIV was established, this immediately caused competitive tension that forced the PGA Tour to change the economics of their tour. So I see all of golf benefiting from this and ultimately this merger is a good thing for the sport of golf. With MarketScale and Suite Talk, this is Patrick Rishe."
Latest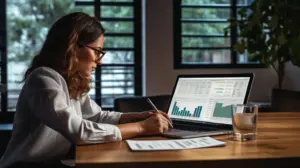 October 4, 2023
The intersection between security and financial acumen often gets overshadowed in a constantly changing economic landscape. While security is essential for safeguarding assets and ensuring continuity, its perceived monetary value is mired in misconceptions affecting company profitability. For many, security is viewed primarily as an expense rather than a potential cost-saver. However, understanding […]
Read More