Car Racing Industry Needs Diverse Revenue Streams to Survive Rising Costs of Track Maintenance, Real Estate, and Unruly Fans
NASCAR is in a race to rebrand as the company faces the financial impacts of rising costs to maintain their tracks and land ownership. It's an inescapable fact that car racing is a real-estate heavy sport, and therefore the car racing industry is an expensive one to manage. Martinsville Speedway, the smallest NASCAR track, is 0.526 miles long and covers over 340 acres. In comparison, MetLife Stadium, one of the largest NFL stadiums, covers only 75 acres. A lot of capital is needed to maintain the tracks and to ensure safe racing conditions.
Since reaching the zenith of its popularity between the late 90s and mid 2000s, NASCAR has had difficulties selling out seats in their grandstands. Less revenue from seats means less money to cover track maintenance costs. As a result, NASCAR is looking at ways to diversify their revenue streams and to attract a more diverse and younger generation of fans, like F1 did with their digital-first marketing approach and Netflix documentary Drive To Survive.
In April, Sports Business Journal reported that NASCAR decided to sell 433 acres of its California Speedway for over $500 million. According to the report, NASCAR plans to use the money from the sale to redevelop other properties and to invest in new projects that they hope will attract a new generation of fans.
Brian Czech, Founder and Board President of Battle Scarred Motorsports, shares his thoughts about the impacts of rising costs for the car racing industry to maintain its tracks, manage land ownership, and deal with a new generation of fans.
Brian's Thoughts
"When Battle Scarred Motorsports, when we're out traveling and we go to different racetracks in different states, we see a lot of the small hometown dirt tracks tend to be closing. I've been to a couple locally here in Mississippi thanks to Daniel Johnson, who took me out with him. I talked to a couple people that were there that were friends of [Daniel's], and they were telling me that a lot of the tracks were closing, just soaring prices, of course, across the board. But a lot of the [tracks] that actually survive, survive through vendors, believe it or not, selling concessions throughout the event, that's what keeps them going. You've got razor thin margins. It's like running a restaurant. It's almost the same deal with 10 times the square footage, probably a hundred.
The other issue that I remember seeing at a track that I had been to personally, and I had enjoyed with some friends a while back, I saw something come across Facebook, this is two or three years ago, where they essentially were closing for all the reasons I listed above. But the major issue was they were closing because there was a complete lack of respect from the younger generation. They got sick of it. If they're running a razor thin profit margin company, and now they're dealing with crappy customers who want to fight and break the rules all the time, what's the point? And they closed, they shuttered, they closed down for that. So it's sad. And the industry is absolutely struggling, and hopefully they figure a way to make it better."
Article written by Angela Thoma.
Latest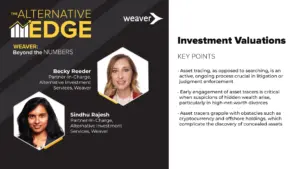 December 4, 2023
In this episode of The Alternative Edge, a Weaver: Beyond the Numbers Podcast, host Becky Reeder, an audit partner and co-leader of the alternative investments practice at Weaver, engages with Sindhu Rajesh, an Alternative Investment Services Partner with Weaver. They unpack the complexities of venture fund valuations, offering critical insights into industry dynamics and best […]
Read More