Sports Professor Discusses How Franchises Will Open New Revenue Opportunities
From game highlights and player highlights to behind-the-scenes footage, social media users are actively following sports teams on TikTok. According to Morning Consult data, 46% of self-identified TikTok users said they "often" or "sometimes" use social media to stay updated with game highlights. In comparison, 42% said they use it for player highlights. Meanwhile, 43% of TikTokers said they use social media at least sometimes for sports news, and about 3 in 10 (31%) users watch behind-the-scenes content via social media.
Patrick Rishe, Director of Sports Business, Washington University, focuses on the success of Formula 1 racing and its growth and following on social media. According to Gadgets Africa, a luckily-timed series on Netflix, Drive to Survive, gained popularity during the lockdown. The industry saw significant growth in following from YouTube to TikTok. F1 is building an audience with content and reaching younger audiences. Rishe believes we'll start "seeing trends in other sports. Use[ing] media to connect with younger fans."
F1's success is its variety of content. F1 is sharing stories on and off the track. "Formula 1 is very different than what's happening with Nascar. Nascar is experiencing stagnation," noted Rishe. Leveraging social media to build audience growth means embracing an all-encompassing content strategy. By adopting the F1 content strategy, other teams could experience the same growth.
Thanks to social media, fans enjoy access to the sport from social media. "Everyone is their own media outlet," said host Katie Steinberg. However, professionals have to toe the line between access, posting responsibly, and honing their craft. Rishe said it's a good thing and requires discipline and control."
Rishe and Steinberg's conversation continues to explore other sports trends like alternative revenue streams and sports labor. The two discuss betting and the new technology that identifies issues with gambling. Their conversation also turns to minimum wage pay for 60% of professional sports players and how union movements may impact sports labor.
More Stories Like This:
Latest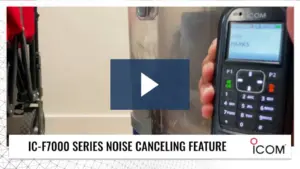 September 27, 2023
In this brief product demonstration video, ICom's IC-F7000 Series receives a mic test of its noise-canceling feature. Through the two demonstrations it is clear the IC-F7000 removes loud ambient noise for clear two-way communication.
Read More