Creating the Expectations for an eSports Stadium
The rise in popularity of Esports took off during the pandemic, when more people stayed inside and sought other forms of entertainment. Senior Principal and Esports Director for the Americas with Populous Brian Mirakian talks with Game Changers host Katie Steinberg about the next generation of eSports facilities and the future of the market.
"The market has really rebounded in a really strong way," said Mirakian, noting that while the pandemic caused traditional sports to stop, video game popularity only accelerated.
With Esports gaming remaining a constant throughout the pandemic, popular game styles like Battle Royale (think Fortnite) allowed different demographics to interact and engage with one another on new platforms.
"There's a tremendous amount of growth that's happening in many different sectors…there's been more activity now than at any point really since we began to explore this as a market segment, going back seven, eight years," said Mirakian.
Investment in Esports has really taken off. An Esports stadium was built in Arlington, Texas outfitted with all the necessary streaming technology but which also has multi-use ability to host Esport events and other capabilities, "You need to have a production studio environment to create the content. What that does, what that allows for is a lot of flexibility and hybridization, right? That allows you to have myriad different types of events that then you can broadcast out and reach virtual audiences as well," explained Mirakian.
As a guest back in 2018 with Marketscale, Mirakian predicted smaller, more-close knitted venue types in the esports arena in retail-based areas, bringing ease of access to the community. While this has held true in some instances, there is also a large proliferation of Esport activities on higher education campuses, "There's a lot of facility types now that are beginning to originate at the college level," noted Mirakian.
On the other hand, Las Vegas will be home to a premier esports venue next year, "which will be home to all entertainment" at a much larger scale.
More Stories Like This:
Latest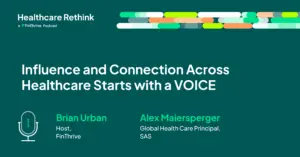 September 29, 2023
In the latest episode of the Healthcare Rethink podcast, presented by FinThrive, host Brian Urban sits down with Alex Maiersperger, the Global Principal Healthcare at SAS. Their conversation charts the role voice plays in influencing and connecting the healthcare industry. Maiersperger, who co-founded the Advancement League, shares his journey from being a healthcare optimist to […]
Read More