CW and LIV Golf Tee Up a New Partnership
A surprising announcement in the world of golf hit the green early this year with a CW and LIV Golf partnership. While it's not ideal for all parties involved, it's definitely a win for the expanding ecosystem of golf's media reach. What are the nuances of the deal, and what does it say about the future of golf broadcasting?
Beginning February 24-26 with the first LIV Golf event of the season, people can catch all the action exclusively on the CW Network. The CW will be LIV's exclusive broadcast partner in a multi-year agreement signed with LIV Golf. Viewers will be able to watch all fourteen global LIV Golf live events in 2023, including live streaming on the CW App.
And while the channel may be different, fans of LIV Golf will still enjoy the same on-air talent providing play-by-play action. Arlo White returns with analysts David Feherty and Jerry Foltz and additional coverage and features by Dom Boulet, Su-Ann Heng, and Troy Mullins.
The burning question is, why did the CW turn its attention to golf? Darren Campo, adjunct professor at NYU's Stern School of Business, provides some strategic perspective.
Darren's Thoughts
"The CW's deal to carry LIV Golf is part of the next star makeover of the CW network during its acquisition announced last year, they laid out a couple of very specific strategic initiatives. One was financial discipline, which we've seen as they've canceled some very expensive shows that the CW historically produced.
The second is leveraging the 68% of the TV homes covered by its station group. LIV Golf will now be available in the majority of the U.S. and by doing a barter deal rather than an expensive license deal, it's very low risk for the CW. What we know about the golf audience is that it's an upscale audience, and so for Nexstar, the CW, carrying LIV should bring a more upscale audience that will flow into its news product, allowing it to attract more upscale brands, luxury cars, vacations, and perhaps even raise CPMs and that would be a win for the CW unless the audience is so small it's a disappointment, in which case we'll see the end of it very soon."
LIV Golf, the controversial Saudi-backed league, still has to prove itself in the U.S. market, and its revenue-sharing deal with the CW may have been different from the exact deal LIV had in mind when searching for a U.S. television partner. Still, could the CW's youthful demographic bring a new audience to the sport? Sports business expert and founding director of the sports business program at Washington University, St. Louis Dr. Patrick Rishe, weighed in on the deal.
Patrick's Thoughts
"Hey everybody. I'm Patrick Rishe and welcome to Suite Talk, the Business Behind Sports. Today's big power play, LIV Golf gets a deal with the CW. This is certainly not the media deal that LIV Golf was looking for now. They wanted potentially Fox Sports, NBC, and ESPN, to shoot big. That wasn't going to happen, but it was certainly a win to at least get a deal with the CW because now you at least have a place on linear TV, on traditional TV where you can find LIV golf, and that is a major win. Now, what's interesting here is that the CW typically caters to a younger demographic of audience, young teens, and young adult dramas. Those are the kinds of shows that typically populate the CW. The CW was ranked 25th in 2022 in terms of the most watched channels.
So again, out of 200 some channels, that's not that bad. So ultimately for LIV golf, this is a start. Now the question will be what kind of audience can they draw? Golf typically is an older audience, and yes, the diehard golf fans that still wanna see some of these LIV golfers that defected such as Bryson DeChambeau, Dustin Johnson, Phil Mickelson you're going to have some people that are going to still want to watch those players.
The question becomes, can you infuse and bring in a younger audience to professional golf? And this is what LIV Golf has talked about. All the while, certainly in person, they try to do a lot of fan festival elements to bring younger audiences to LIV golf. Will they be able to also do that in their TV production, in their partnership with the CW?
The other interesting thing about this deal, this is going to be a revenue share deal. We understand from reports that LIV golf is not receiving any media rights from this. This is a revenue share entirely. So how is that going to play out? And it could be that if LIV golf proves itself on camera, then maybe they'll just be able to get more out of this from the CW or another media partner down the road."
Latest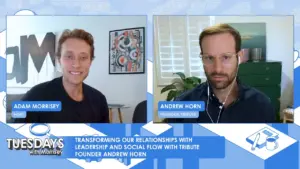 November 28, 2023
Can relationships be transformed through leadership and social flow? Navigating the intricate web of digital relationships can be a tricky proposition. Tuesdays with Morrisey's Adam Morrisey uncovers the transformative impact of emotional recognition in the workplace with Andrew Horn, the mastermind behind Tribute. This podcast edition unravels the story of a platform redefining how […]
Read More