Epic Games Expands Its Physical Footprint with New HQ
Fortnite developer Epic Games is cashing in on $1.78 billion in funding it received in 2020, acquiring an 87-acre property for $95 million on which it plans to build a new headquarters.
The company expects to occupy the property, which was home to North Carolina's Cary Towne Center mall, by 2024.
The move not only highlights the importance and power of gaming's biggest stars in a world that's seen video games extend their influence to new heights, but the potential fate of commercial real estate like that of the Cary Towne Center in the face of lagging interest and revenue.
In fact, MarketScale's Daniel Litwin and Tyler Kern said that aspect of the deal is perhaps the most interesting – with so much commercial real estate and so many sprawling shopping complexes in America, what's to become of these spaces in an increasingly digital world?
In this industry update, the duo also tackled the explosive growth of the video game industry, the impact of a company like Epic Games moving to a more non-traditional site like the one it's chosen in North Carolina, and the risk involved with tying up such a large investment in physical property.
Key Points:
Fortnite has catapulted Epic Games to the stratosphere of the video game industry.
The company raised nearly $2 billion in 2020

That money will go toward a new, 87-acre headquarter campus.
Latest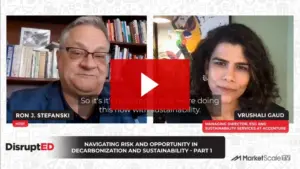 September 26, 2023
The global conversation has shifted dramatically towards decarbonization and sustainability in recent years. With the world experiencing unprecedented levels of disruption, from 5G technology to the challenges of a pandemic, the urgency to address climate change and its implications has never been more palpable. Although most business leaders see the vision of Sustainable Development […]
Read More