How Atlanta is Re-Writing the Playbook on Stadium Dining
The National Football League kicks off its 100th season Sept. 5, and a record number of fans are expected to pack stadiums to their capacities this Autumn. One of those venues is Mercedes-Benz Stadium in Atlanta, Georgia.
Home of the Atlanta Falcons and Major League Soccer's Atlanta United, the stadium that holds over 70,000 people made a revolutionary change recently by going entirely cashless. The first professional sports stadium in the country to make every transaction electronic is hoping to set a new standard for crowd-flow, accessibility, and security.
How a Stadium goes Cashless
Mercedes-Benz Stadium opened in 2017 with industry-low food and beverage prices to entice more patrons to spend money. A whole-dollar pricing system was implemented in order to ensure short wait times and offer appealing pricing for the traditionally costly experience of eating and drinking at a ballgame. Now, after two years of increases in customer spending, the stadium, with the financial backing of stadium operator AMB Group, is making all transactions electronic.
This means only credit cards, mobile payments like Apple Pay, and special stadium-exclusive debit cards that fans can access through one of its ten "reverse ATMs" will be accepted for payments.
These reverse ATMs give patrons the opportunity to exchange cash for a reloadable Visa debit card, and, at no cost to the consumer, print one out to use at the event and keep for future purchases in-house.
AMB Group will, for now, pick up the tab on the transaction fees for the ATM, a move that Steve Cannon, CEO of AMB Group described to CNBC as "A little investment to make it as seamless as possible for the fans."
What this means for Profit Margins
Cash transactions are a surprisingly costly way of doing business, especially for high-traffic facilities like sports stadiums. "There is a significant amount of effort and cost that goes into the handling and accountability around cash that will get completely removed from the equation," Cannon said in an interview with Bloomberg.
Whether its accessing, securing, storing or transporting the cash, merchants spend valuable time, resources, and money dealing with this.
With industry-low prices at the stadium, finding new ways to boost efficiency, both fiscally and operationally, has helped increase profit margins by 15 percent since 2017. Part of the success does stem from the fan-friendly pricing on food and beverages. According to AMB, average spending in 2017 increased 16 percent from the year before and remained in line with 2018 spending.
With the new cashless system, the stadium is moving away from whole-dollar pricing and adding sales tax to purchases. To appease fans that may be upset by the slight change in pricing, the stadium cut select food prices an additional 11 percent.
Is Cashless the Future of Event Transactions?
AMB Group and the Mercedes-Benz Stadium set a new standard for merchant service in the sports and entertainment world. Not long before the Mercedes-Benz Stadium announcement, Tropicana Field, home of the Tampa Bay Rays of Major League Baseball, revealed it would implement a similar cashless system.
Many soccer stadiums in Europe have already or are currently in the process of implementing cashless transactions in their venues. So far, vendors seem to only benefit from electronic transactions. Costs are reduced, wait-times at vendors are shorter, transactions are processed quicker, and a new modern element is enhancing the experience of a timeless pastime.
For the latest sports and entertainment news, head to our industry page! You can also follow us on Twitter @SportsEntMKSL! Be sure to join the conversation in our LinkedIn Market Leaders group here!
Latest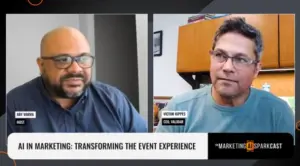 November 28, 2023
AI has been gradually changing the landscape of event technology at a very rapid pace. In an industry where staying ahead of technological trends is crucial, AI's impact on marketing and event management has become increasingly significant. As witnessed in the rise of account-based marketing and enhanced personalization, AI is effectively reshaping how events […]
Read More