Los Angeles Film & TV Production Hits Rock Bottom During Pandemic
More data has been released regarding how the Los Angeles film market has adjusted to the pandemic, and, though, there are some signs of life and reasons for hope, the numbers are not good.
Reporting out of Hollywood Reporter said that non-profit benefit and research organization for the greater LA media economy, FilmLA, recently released its 2020 Television Report.
It goes into detail about various kinds of TV content types and their production numbers over the year, showing that most every type of TV media saw less production last year. The most biting number was for on-location filming in Los Angeles, which fell just short of 19,000 shoot days in 2020. Compared to around 36,500 shoot days in 2019, this was a 48% decline and set a new record low for production yield.
Production for film in general saw some slight growth compared to the rest of the year, but was still down 25% compared to 2019. The balance between film and television production was also surprisingly askew in 2020, as TV dominated the albeit minimal production – 54% of total Q4 shoots were TV shoots, compared to only 38% in 2019.
All of this points to a beleaguered film economy in LA, which leaves things up in the air for film and television industry professionals. What will be the net effects of such a slowdown, will work return in the same way, and how do the numbers reflect expectations for the content that'll lead in 2021?
To tackle those questions, host Daniel Litwin welcomed MarketScale's Gregory Bordelon to this Industry Update.
Follow us on social media for the latest updates in B2B!
Twitter – @MarketScale
Facebook – facebook.com/marketscale
LinkedIn – linkedin.com/company/marketscale
Latest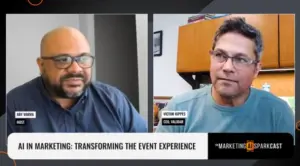 November 28, 2023
AI has been gradually changing the landscape of event technology at a very rapid pace. In an industry where staying ahead of technological trends is crucial, AI's impact on marketing and event management has become increasingly significant. As witnessed in the rise of account-based marketing and enhanced personalization, AI is effectively reshaping how events […]
Read More