Marketscale Creates: YouTube's Past, Present, and Future Role in Fostering a Media Career
YouTube is an often overlooked social media platform, disregarded for the more digestible, quickly-consumable content of Instagram or Twitter. But for videographers and cinematographers, it's a primary tool for showing and sharing their work. "Marketscale Creates," takes a look at the YouTube platform with guests Chris Murray and Marcos Rocha, YouTubers and media professionals. Since YouTube began in 2005, the media channel has evolved. So what is its function today and how can videographers use it to bolster their work and brand.
A wise film school professor once told Chris Murray, "To be a successful cinematographer, it's more than just shooting. It's ⅓ creative, ⅓ technical, and ⅓ managerial." Those words have stuck, and continue to ring true today. Youtube falls under that umbrella of being a managerial tool, he explains, pushing creators to continuously create and connect. "Exposure is currency," says Murray. YouTube is more than just a place to post portfolio work, it's a tool for building network and community.
Marcos Rocha's entry into a professional media career wasn't so linear. Coming to the industry later in life, he says he owes everything he knows to YouTube. "Youtube is a film school," he says, "everything you can find and need is out there." Rocha's utilized YouTube as a learning platform and accountability tool, pushing himself to publish content he was proud of on a regular basis.
As the two videographers continue to build their businesses through YouTube, they both agree on one piece of advice: provide value. Don't get into YouTube to strike it rich and stumble into celebrity fame. "Create content because you want to create it," says Rocha. Maintain an authentic sense of self when creating media on the platform. Chris says, "You're building your brand and that's all you need to focus on. What would you do to build yourself up?"
Follow us on social media for the latest updates in B2B!
Twitter – @MarketScale
Facebook – facebook.com/marketscale
LinkedIn – linkedin.com/company/marketscale
Latest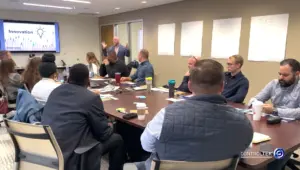 December 4, 2023
The video captures highlights from the CONTROLTEK Design Thinking Workshop specifically tailored for Burlington Stores. It shows interactive sessions, engaging group activities, and innovative brainstorming, emphasizing CONTROLTEK's commitment to developing customized retail solutions in collaboration with the Burlington Stores team.
Read More