Riding the TikTok Wave: Spotify's Redesign Targets Video Podcasting Market
Spotify takes inspiration from TikTok's discover feed in its latest redesign, targeting the podcasting market, sparking a debate. Out with the old, in with the new! Spotify shakes things up with its latest redesign, taking cues from TikTok's discover feed to capture the video podcasting market. But is this a scalable move that caters to the current demographic of users?
In a major app overhaul, Spotify embraces AI-driven decisions for content discovery, joining the likes of Facebook, Instagram, and Twitter. The streaming giant's move could potentially enhance its podcast investments and help it finally turn a profit. However, critics argue that this could lead to the homogenization of the entire internet, leaving us with fewer unique online spaces.
Spotify's redesign focuses on the Discovery Home Feed, aiming to empower new artists and content creators. The platform has also expanded its features for podcasters, such as polls, community tabs, and better discoverability algorithms. As YouTube continues to dominate the video podcasting market, Spotify has realized the importance of building its creator presence and is stepping up its game.
But what does this mean for Spotify's current user base? Are they fans of this new direction, or will the platform's focus on audio creators alienate long-time users? Dylan Huey, Co-Founder and CEO of Opal LLC, shares his thoughts on Spotify's redesign and its implications for both the company and its users.
Dylan Huey's Thoughts
"Hi, I'm Dylan Huey. I'm a content creator with over 2 million followers as well as a musician and the current president of USC Reach, which is the first and only social media influencer and content creator club at any university. We've currently expanded that to a ton of other universities. We're in about 10 universities at the moment, including UCLA and LMU. Duke, Penn State, Indiana University, and a ton of other universities. Regarding the Spotify redesign efforts, as both a content creator and musician who distributes work on social media and Spotify, I've been following the trend of consumer-focused platforms adopting more familiar user interfaces and user experience designs.
Companies like Spotify are incorporating redesigns to enhance interactivity and create a lively user experience by leveraging designs that users are already familiar with via social media platforms. These platforms, such as TikTok, and I know that's what Spotify is encapsulating, but other platforms, such as Instagram, YouTube, et cetera, as competition intensifies and the need for personalized experiences grows, companies will continue to embrace familiar designs to attract and retain users.
This marks the acknowledgment of the need to gain consumer attention for all platforms, whether it be an audio platform or a social media platform. The ability to offer personalized experiences is a key differentiator for companies to stand out from their competitors, and familiar design facilitates seamless and intuitive user experience.
By incorporating this redesign, Spotify could potentially engage new listeners by addressing their pain points while also retaining its existing audience. However, it does remain to be seen if this move is scalable for the company and how it will affect the current demographic of users. In addition, users are familiar with the old UI, so transitioning to a new UI that features machine learning, artificial intelligence, and all this new technology is questionable, especially for the older demographic who does use Spotify.
I think this skews very heavily into Gen Z and our generation. But I think those who are already familiar with the UI of Spotify and how Spotify looks, and how to interact with it will question the platform initially. But I think the fact that they are gearing towards a form of TikTok, discover feeds, for consumers who are actively using TikTok or these other social media platforms. This adjustment shouldn't be that big because they should, and this is Spotify's hope that they understand how the platform is because they understand how TikTok is.
Overall, I believe the redesign of the Spotify app underscores the importance of providing personalized and interactive experiences for users. And it will be fascinating to observe how companies continue to adapt and innovate to meet the changing expectations of their users. And now, like I said, I think that the digital world is all merging into one where every platform, whether it be a music platform or an audio platform, they're all fighting the same battle to try to get consumers to join their platform, to engage in their platform and to utilize it. So having an understanding of what social media platforms are doing well with, which is engaging consumers, that's their target.
That's what Spotify's really focusing on. So with that being said, time will tell, but I think that this is a positive move for Spotify. Ultimately, in the long run, this will also allow the platform to better skew for a video podcasting platform that is currently seen as a music platform.
So this will allow it to gain and engage new listeners. Podcasting or their focus on podcasting isn't just hidden or seen as an addition, but now more of a focus for them."
Article written by: Azam Saghir
Latest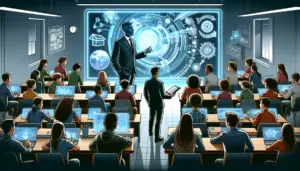 November 27, 2023
In an era where education stands at the crossroads of tradition and innovation, the potential value of thought leadership becomes the guiding star for progress. "Just Thinking" dives into this potential with host Kevin Dougherty and guest Evan Edwards, a Professional Learning Specialist at 806 Technologies who exemplifies the transformative impact of visionary guidance […]
Read More