Sports Management Software Will Expand Client Management, If Software Companies Know What To Target
The sports management software industry is emerging with a major boost in growth, all thanks to a rise in the digitalization within the sports industry — among several other elements. According to research, its corresponding market is expected to grow at a CAGR of 15.1 percent and will be valued at over 24 billion by 2031. Behind this increase is a surge in fan engagement through various platforms, and sports investments, which have helped increase streaming and access to online sports betting.
Another area of growth stemming from the sports management software industry is client management, which is expected to have a CAGR of 16.9 percent. With sports fans being the biggest drivers of sports management software, many companies should aim to incentivize around the trends that fans are engaging with and what appeals to them. Companies have a lot of opportunities to utilize despite a competitive market and it can start with sports that are less popular. 
Navigating this intersection of sports and tech is Daniel Rosenberg, Associate Professor and Director of the Sports Management Program at Barry University. With deep insight of sports management and its union with technology, Professor Rosenberg explores how software companies can maneuver towards success in the growing market. 
Rosenberg's Thoughts
Transition from Traditional to Digital Tickets
"If I were a software company, I would be looking for opportunities below what's already exploded with Major League Baseball and football and basketball, the big three, and innovate. Being my age, and I don't consider myself old, but I've lived around a while and getting a paper ticket to now all the software involved. I just had to wrestle with this today because we have an event where the Marlins play. It's called Long Depot Park. And 50 of my students are going to go. It's a networking, meet the front office of all the major teams the Marlins are hosting. But she sent it through the MLB Ballpark app, which is fine."
Challenges with Current Digital Solutions
"I'm sure if we hadn't had my university cut and I still had a 20 or 30-something GA, there probably is a very efficient way to take the 50 tickets. But the only way I know, I mean, I know the app and I'm familiar, is to forward each ticket to each student. Or I'm going to call my former GA up in Canada, an IT guy, and say is there a way to just blast all 50 out to individual students in a group, whatever. Anyway, so my mind is wrapped around client, you know, needs and how the fan experience now is so enhanced with the software, the interactivity."
Analytics and Marketing Opportunities in Sports
"At the Ballpark, there's a lot of apps designed not only to be able to track on what's happening on the field, but also to order food. The analytics departments are real involved. First of all, you can't use cash anymore. So the minute you swipe for anything, the profile, you can cut and slice and dice every, you know, element of where a fan is spending their money, and where they're going, and what kind of beer they're buying. And all of that has marketing, you know, sponsorship implications."
Privacy Concerns in Modern Fan Engagement
"And the guy from the HEAT who came and demonstrated this said, somebody give me, you want to volunteer who's been to a game and then typed in the name. And all our mouths fell because we knew exactly what this individual had done at the game in terms of, you know, spending money and where and how and what kind of thing. And there's certainly I'm sure there are privacy issues, which you're embedded in your question there."
Emerging Sports and the Software Industry
"I think that emerging companies, software probably need to identify some niche sports places that may not have already on the cusp of commercial fan, more fan engagement and get ahead of it. So I would identify sports that are emerging. And the one I think I cited in my answer was pickleball, you know, as a participatory sport that's grown, but now as a spectator sport. NBA players are owning pickleball teams. I've seen pickleball tournaments on ESPN."
The Need for Continuous Innovation in Sports Software
"If I were a software company, I would be looking for opportunities below what's already exploded with Major League Baseball and football and basketball, the big three. My friends involved with software and with apps are continuously innovating. And I think so you can't rest on your laurels when it comes to this kind of thing. I would put a lot of money into their research and development, even if they have a platform or a software that's being utilized. They need to think of the newest, latest thing. Again, I personally know people and I have them guest in my class who have developed apps, sports related apps."
Article written by Alexandra Simon.
Latest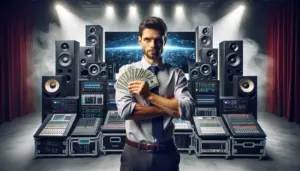 December 8, 2023
Mastering AV sales strategies in a global professional audio-visual (Pro AV) market, poised to reach $79.2 billion by 2028, requires much attention to detail. The surge in demand from corporate, government, and institutional sectors, driven by the need for enhanced productivity and efficient working environments, gives AV sales pros a lot of opportunity. In […]
Read More