Starting and Growing Your Own Production Company
On this episode of In Focus by MarketScale, host and MarketScale Senior Director, Video Production Josh Brummett was joined by Panther City Media Owner Abigail Nelson.
Fort Worth, Texas-based Panther City Media is "a group of local creatives … [whose] mission is to provide storytelling with the use of photography and cinematography efforts." The group captures weddings, music videos, promotional content and more, all driven by that narrative focus.
Brummett and Nelson discussed, first and foremost, Nelson's decision to start her own company directly out of college and in the midst of a global pandemic, which, while difficult, has afforded her the opportunity to create on her terms.
"I just got tired of having to show up and never see them again – just being an extra hand," she said. "I truly wanted to create an environment that I was hungry for. … Being 18 in the industry and a woman, you learn a lot behind the scenes, and that made me want to do better than the example I had been led to believe was good."
While COVID made her venture even more of a risk, Nelson said she's seen the rewards as she's adapted to what the current environment demands – and through sharing her own experience getting married during the pandemic to offer comfort to clients looking for her to capture their own big days.

Latest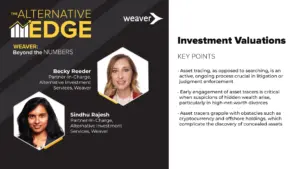 December 4, 2023
In this episode of The Alternative Edge, a Weaver: Beyond the Numbers Podcast, host Becky Reeder, an audit partner and co-leader of the alternative investments practice at Weaver, engages with Sindhu Rajesh, an Alternative Investment Services Partner with Weaver. They unpack the complexities of venture fund valuations, offering critical insights into industry dynamics and best […]
Read More