The Cost of Cord Cutting: How Cable Providers Plan to Adapt
Since the mid-1900s, cable television has been one of the main sources of entertainment for the masses. By 2012, 93 percent of homes in the United States had access to cable. In the past few years, however, alternative viewing options have changed the entertainment landscape. Today, people ending their cable subscription (dubbed "cord-cutters") are making a significant dent in the financial state of the cable industry.
What Cord-Cutting Costs
Recent surveys suggested that cord-cutting would cost cable companies $5.5 billion in revenue in just one year's time. This estimate does not take into account that some companies actually partner with alternative entertainment viewing options, like streaming services, so they earn some of that revenue back. However, the outlook for traditional pay-TV services appears to show rapidly increasing losses instead of gains.
Where Cord-Cutters Are Spending Their Money
In 2018, 7 out of 10 American households were using at least one subscription service. Many people subscribe to more than one streaming service for their entertainment. Cord-cutters are proving that they are still spending money and time on entertainment- but may prefer streaming services.
The Effects of Cord-Cutting on Cable
In order to minimize losses and make the future of cable TV more sustainable, many companies are increasing the number of ads they run. Commercial time rose by 1 percent for most providers recently. The cost of service for customers has also risen simultaneously.
It remains to be seen whether cable TV customers will remain loyal to the type of companies they have used for decades while prices and commercial times continue to rise. As the rate of cord-cutting climbs exponentially, rising from 22 percent to 32.8 percent between 2017 and 2018, pay-TV services will need to adapt quickly to maintain customers.
How Pay-TV Services are Adapting
Experts estimate that pay-TV services have about seven years left to adapt before their customer base isn't willing to pay enough to sustain the market. Some of the strategies companies in the industry are employing to adapt and stay relevant include partnering with social media platforms and updating their user-interfaces to reflect the sought-after features of streaming services.
Other strategies include changing business models. Cable TV companies could develop their own streaming services or create exclusive programs. Pay-TV companies could leverage shows that receive the highest ratings to compete with streaming services like Netflix that have exclusive rights to popular shows.
Latest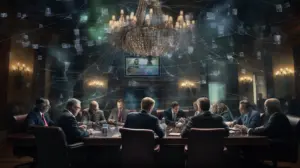 October 3, 2023
In August 2023, the National Institute of Standards of Technology (NIST) put out a request for comments on the Preliminary Update from the Internet of Things Federal Working Group (IoTFWG), which aims to provide the nation direction on how to improve IoT adoption and expand its use cases for the future of industrial, corporate, […]
Read More