The Monumental Challenge of Rebranding a Sports Team
The fans remember the highlights but the franchises remember the technology, data, and inventions that powered their season. Host Tyler Kern sits down with the innovators, leaders and founders that are taking sports into the future.
In July of 2020, the Washington football team ditched their previous name under intense social and economic pressures. The team plans to stick with their generic name until early 2022.
Marketing strategy and activation firm Metaforce conducted a simulation to rename the team. They performed a series of panels and focus groups involving players and long-time fans to rename the team.
On this episode of Salary Capped, Host Tyler Kern talked with Allen Adamson, Co-Founder and Managing Partner of Metaforce, about the rebranding of the NFL franchise, which doesn't happen that often. Metaforce marketing company has deep expertise with strategy, go-to-market planning, branding, creativity, and activation.
When Adamson initially heard news stories about the Washington Football team changing the name, he hoped they didn't move fast, as the reports mentioned, because it would be hard.
"The older the name, the more heritage there is, the harder it is to replace it because everyone is so in that world that everything else looks terrible." – Allen Adamson
Adamson said they did what they did with any other corporate or product client. They interviewed management to find what is at the heart of their organization. They also talked to former players and fans to try to identify what is at the root of the organization, besides the name. They dug into the DNA, the culture, the stories such as "what fathers tell their sons about the team."
Listen to hear more about what goes into the renaming of an NFL franchise.
Follow us on social media for the latest updates in B2B!
Twitter – @MarketScale
Facebook – facebook.com/marketscale
LinkedIn – linkedin.com/company/marketscale
Latest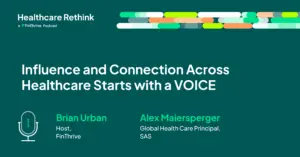 September 29, 2023
In the latest episode of the Healthcare Rethink podcast, presented by FinThrive, host Brian Urban sits down with Alex Maiersperger, the Global Principal Healthcare at SAS. Their conversation charts the role voice plays in influencing and connecting the healthcare industry. Maiersperger, who co-founded the Advancement League, shares his journey from being a healthcare optimist to […]
Read More