The Ramifications of the Houston Astros Cheating Scandal with John Allgood
MarketScale's Tyler Kern was joined by the Academic Director of the Executive MS in Sports Business program at Temple University, John Allgood, to discuss the fallout of the Houston Astros' recent cheating scandal in the world of sports business.
Allgood has more than a decade of experience in professional baseball, most of it at the minor-league level, giving him valuable insight regarding the inner workings of the sport.
Though Allgood acknowledges that the stealing of signs has been an integral part of the game of baseball for as long as it's existed, the Astros' overstepping of the unspoken boundary between stealing signs and leveraging technology to do so led to the harsh punishment handed down by Major League Baseball.
Those punishments included the suspension of the Astros' manager and general manager, who were subsequently fired by the team, a substantial fine, and the elimination of high-profile draft picks for the organization in the coming years.
Still, Allgood said he's unsure whether the punishment will have the intended effect.
"I could argue both sides of it. Not that I'm one to waffle from giving a side, but I think you can look at it as being excessive, but you can also look at it as being not excessive," he said. "Two of the last three World Series were won by teams that were cheating. What does that say?"
Kern and Allgood also discussed how the scandal might impact sponsorships and other aspects of the Astros' front office, fan identification and how such a scandal can alienate even longtime fans, and more.
To keep up with everything going on in sports business, check out MarketScale's industry publication here.
Latest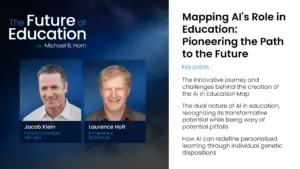 October 2, 2023
Mapping AI's role in education should be a critical step in bringing together innovative technology-based solutions with the expertise of human educators. With rapid advancements in artificial intelligence and an increased reliance on technology-driven educational solutions, the education landscape is on the brink of a significant transformation. AI promises highly personalized learning experiences, efficient administrative […]
Read More