Why Stadium Naming Rights are a Brand's Winning Ticket for Building Revenue, Community
As revenue flows in for professionals sports, for the team owners and decision makers in the industry, sports is getting equally more expensive. Just look at the lucrative salary cap increases across major sports due to an increase in earned revenue. Most recently, the NFL announced that they plan to raise their salary cap to $208.2 million in 2022, a 14% raise. Another expense in sports that has grown over the years, though, is the sometimes under-appreciated but important investment into stadium naming rights deals.
New stadiums across the country are reaching multimillion dollar deals for sponsorship partners. In November, Staples Center, home to the Los Angles Lakers and Clippers, sold their naming rights to Crypto.com for $700 million which is a $584 million increase when Staples bought the rights in 1999. Recently, California has been a hot bed for new stadium rights deals; back in 2013, the San Francisco 49ers and Levi's reached a recording breaking deal at the time for to secure a name on the new stadium. In the past two years, both the Los Angles Rams and Chargers, as well as the Los Angles Clippers, have made headlines with their stadium rights deals for their new arenas.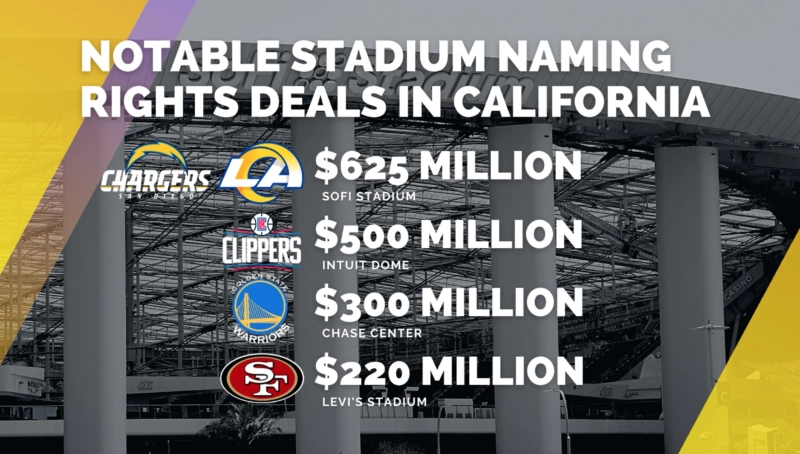 The Crypto.com name change is set to debut on Christmas Day when the Los Angeles Lakers take on the Brooklyn Nets. But as sports professionals know, stadium naming rights are more than just the physical act of putting a brand on the side of the arena. These names can shape communities, and they can be huge revenue drivers for the sponsored brands. According to Jon Stainer, Managing Director of Nielsen Sports, these rights deals have multi-layered appeal for almost any company.
"When I think about the benefits of naming rights I think about three areas. One is brand building, two is community immersion, and the third area is around showcasing," said Stainer.
Stainer points out that brands use these rights to build a platform locally, nationally and globally. The local connection is also a part of a larger strategy for community immersion, in which brands support the local community where their stadium resides through outreach and various support programs.
"We talk about another recent naming rights deal with the Amazon Climate Pledge Arena. There is a significant focus around that deal, around purpose, connecting consumers and fans to sustainable arenas and sustainable venues. We know that connects really well with the modern younger-age fan as well, they really appreciate what brands do around social responsibility and sustainability programs," said Stainer.
Despite the partnership still being as fresh as the ink on the $700 million check, Crypto.com has already reaped a variety of benefits. According to Nielsen Sports, there are 100 million Lakers fans worldwide, 15 million being in America. In a one-week span in November after the sponsorship was announced, Nielsen Sports says there were 3,300 articles written about Cyrpto.com which reached 371 million impressions, equating to $4 million in discounted media.
This type of outreach and exposure doesn't just extend to sports teams, but other consumer groups as well; most stadiums are multi-purpose venues which hold concerts and a number of other events. According to George Perry, a term instructor at George Mason University's School of Business and a 22-year sports marketing veteran, this is an investment that brands are willing to make because of the exposure involved.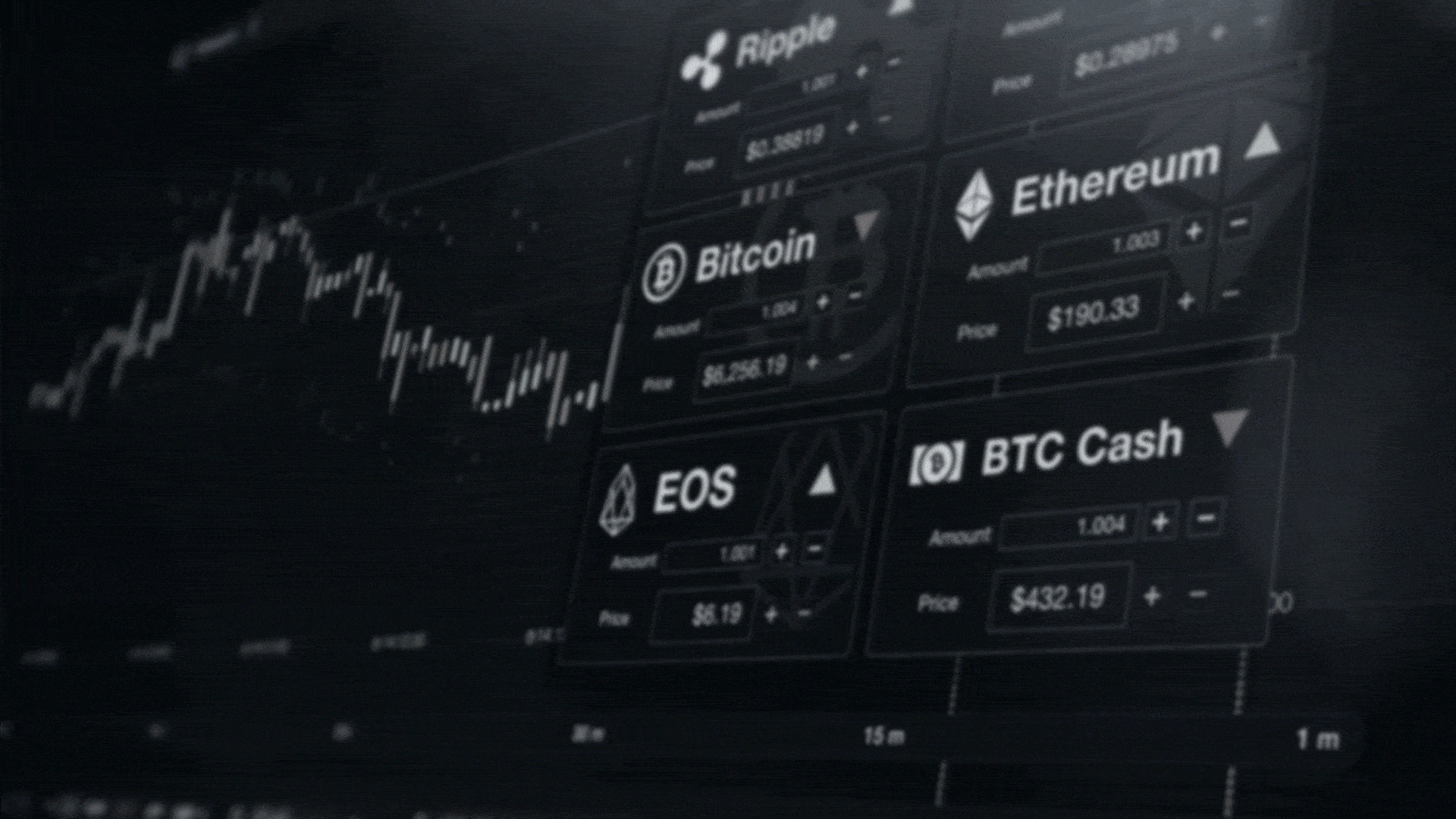 "These sponsorships have evolved. They are no longer about, 'Hey, pay me money, we will put your name on the building and give you a few other things.' This is about, 'How do we turn this into a strategic win-win partnership between both parties?' And if it is done right, both parties can benefit. If it is done wrong, that can cause trouble for one party or the other," said Perry.
When the partnership is done right, it could open up more avenues for both parties to make more money. To Perry, the quid pro quo is a team getting more money from sponsors to help pay for rising expenses, and the sponsor getting one-of-a-kind, lasting exposure.
"You got the sports and entertainment properties looking for more revenue, more ways to pay for these sports, these businesses that they are running basically," said Perry. "Then you also have brands who are saying, 'Hmm, we are finding that this association with sports teams or venues is a really good marketing tool but we want to find a way to differentiate ourselves and what better way to do that than to have an ownership position with the team. We own, we named that venue.'"
Finding that right partnership is something that Jason Miller has been doing for years. Miller, who's the Senior Vice President and Management Head of Property Sales at Excel Sports Management, had a hand in helping negotiate a stadium naming rights deal between Q2 and Austin FC for their stadium's naming rights.
A big part of the process with Q2, according to Miller, was connecting with the local community. He says the brand is utilizing the sponsorship to help promote brand awareness for current and future employees so they can compete with other fintech companies in the increasingly competitive Austin, Texas market. Although this would fall under a "traditional" reason for a brand to get involved in a naming rights sponsorship, Miller argues that brands like Crypto.com are untraditional in how they're leveraging this high-profile deal.
"When you see a company put their name on a building the first thing a lot of people think of is, 'Wow that is a company that is here to stay!" Those are long term commitments, long term deals and so that is one of the reason's why you see crypto companies taking positions, what Crypto.com did in Los Angeles, what FTX did in Miami," said Miller. "Then all the different activities that are happening in that category are a quick opportunity for these companies to acquire customers just like what you saw with Daily Fantasy, a number of years ago between DraftKings and FanDuel and the people underneath that category. And of course with what you are seeing with the sports betting category."
No matter the reason why a brand gets a stadium naming rights sponsorship, Miller believes there has never been a better time for brands to seek out and participate in these deals.
"Right now is definitely the hottest naming rights market that we have ever seen in the history of North American sports," said Miller.
Latest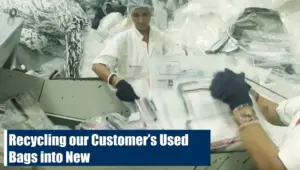 December 6, 2023
This video focuses on EcoLOK4, a groundbreaking product by CONTROLTEK that exemplifies innovation in sustainability. It highlights the process of transforming landfill waste into new deposit bags, with 90% of each bag's material being repurposed trash. This initiative not only reduces waste but also closes the sustainability loop, demonstrating CONTROLTEK's commitment to environmentally friendly […]
Read More