Airlines Say Masks Might Become a Must When Taking to the Skies: Business Casual
Powered by RedCircle
In today's Business Casual segment, MarketScale co-hosts Tyler Kern and Daniel Litwin opine on whether or not more action is required by the government to enforce the wearing of masks by passengers while on commercial flights or if this is an issue that should be mandated and imposed by the aviation industry alone.
With several U.S. airlines (Alaska Airlines, American Airlines, Delta Air Lines, Hawaiian Airlines, JetBlue Airways, Southwest Airlines and United Airlines) threatening to ban passengers who refuse to wear masks while traveling, on July 15th, the Airlines for America trade group said they will be implementing new face mask policies for travelers as we traverse the skies during the COVID-19 pandemic. Yet, many in the airline sector believe that the industry alone cannot fix this problem and have called once again on the federal government to mandate masks for passengers and frontline workers and implement broader action on COVID-19 safety measures in aviation.
In fact, opposing a federal requirement on masks for flying travelers, Transportation Secretary Elaine Chao has stated that the issue is best determined by airlines and unionized frontline workers, who are most at risk if coronavirus spreads on planes, with rules that can be communicated before flying, on the plane and during the flight with punishments that could include the suspension of flying privileges as well as leniency to remove masks while eating or drinking while in the air.
However, Susannah Carr, an United Airlines flight attendant and Association of Flight Attendants has said that this current approach is not working and is a definitely an issue that needs to be addressed, testifying before the House Transportation Committee that her colleagues have discussed "the fact that passengers don't like to wear the mask, might take it off for a longer period than just to eat or drink."
And it's not just those in the aviation industry who are upset about people not wearing masks during flights. Passengers cooperating with mask requirements are also livid with their non-masking-wearing seatmates.
Further, Sara Nelson, who is the President of the Association of Flight Attendants said in a statement, "The federal government has completely abdicated its responsibility to keep the flying public and aviation workers safe during COVID-19." She goes on to say, "Masks are essential to keep passengers, flight attendants, and frontline aviation workers safe during the Coronavirus pandemic. It is also essential to rebuild confidence in air travel."
Every week, Business Casual brings topics to the forefront that affect travelers and workers in the aviation sector as well as other B2B industries. Tune in each Wednesday and Friday to stay abreast of the trends and news shaping our world today.
Follow us on social media for the latest updates in B2B!
Twitter – @MarketScale
Facebook – facebook.com/marketscale
LinkedIn – linkedin.com/company/marketscale
Latest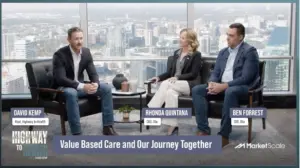 December 7, 2023
As of recent times, the healthcare industry has been progressively shifting towards value-based care, a model that emphasizes patient outcomes over the quantity of services delivered. This transition represents a significant shift that promises to enhance patient experiences and outcomes while controlling healthcare costs. With a growing emphasis on this approach, especially over the […]
Read More