How Southwest's Scaling Back of Cleaning Protocols Affects Air Travel

Southwest Airlines recently scaled back its COVID-19-related cleaning protocols, reducing the amount of between-flight cleaning that takes place in an effort to cut back on time planes spend on the ground.
Upgraded Points travel industry analyst James Larounis, Pilota CEO Saniya Shah and Linear Air Taxi Founder and Line Pilot Bill Herp gave their thoughts on this move, which saw the airline become the first major industry player to undergo such a rollback.
The trio of industry thought leaders tackled:
The impact Southwest's decision could have on the entirety of the airline industry and on consumer confidence
Which COVID-19 measures have hit airlines the hardest
How airlines are balancing safety and cost-cutting measures
How airlines might return to pre-pandemic levels of growth
Larounis said the move largely stems from an established position as a leader in cleaning and social distancing efforts, with Southwest banking on the reputation during this period of scaling back to tighten up connections and cut costs.
"The ultimate question, here, is going to be will an airline like Delta, for example, that is blocking middle seats … ultimately get more revenue than an airline like Southwest," he said. "You can't really have you cake and eat it, too."
Follow us on social media for the latest updates in B2B!
Twitter – @MarketScale
Facebook – facebook.com/marketscale
LinkedIn – linkedin.com/company/marketscale
Latest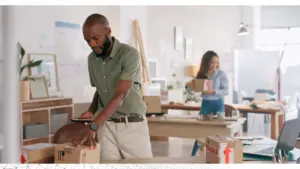 November 29, 2023
While the logistics industry often gravitates toward cutting-edge technology, Wesley Boyce, an Assistant Professor of Practice in Supply Chain Management and Analytics at the University of Nebraska-Lincoln, brings to light the enduring significance of radio communication. In a world enthralled by digital innovation, he argues that the simplicity of radios could be their greatest […]
Read More